Okay, so it was a pretty resounding "Yes" when I asked those who follow my
Facebook page
if they would like to see a play-by-play of my menu-planning for the week. This post is a follow-up to
a popular post from last year
, when I explained how I keep our grocery spending in check while eating well. I should have looked closer at my list before offering this on Facebook this week, because a lot of this week's menu (including all of the meat) is coming from grocery items I already have in the house from past sales. This list goes to show you how light your cart will be when you play the sales right. This will be about a $40-50 order. If you haven't read the post on
Trimming Your Grocery Bill
, you may want to start there.
If you read the
old post
, you know that I like to write my grocery list and my menu plan on the same page. That way, if I get to the store and there is a great in-store special or clearance (or the advertised items are out of stock), I can easily switch things up. This is how my page always looks: main grocery list down the left side, extra items I have to pick up elsewhere on the top right (Shoppers Drug Mart, in this case), and my menu plan on the bottom right. Items that aren't on the list might be added to my cart in addition to this week's meal plan if I see a good chance to stock up on an something we use regularly use.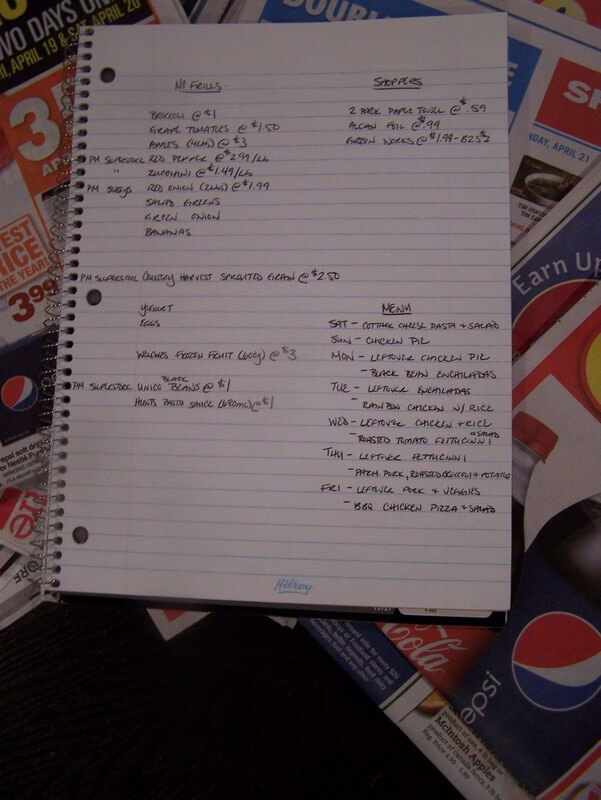 For anyone who is hesitant to plan because they don't know what they'll be in the mood for next week, remember that nothing needs to be carved in stone. Maybe you want to start by planing a few meals that you will eat sometime this week, but don't want commit yourself to making them on any particular day. Baby steps. HA!

I approach my meal plan with a few things in mind:
What's in the freezer?
What's in the pantry?
What's on sale?
What's going on this week?
I want to use what I have and what is on sale (ideally the "loss leaders" from the front and back pages of the flyer) before I think about buying anything at regular price. I also want to consider the week ahead, because the meal plan should suit how busy we are, who will be home for dinner, if we have any existing plans to go out to eat, whether or not people are at school/work, etc. If you are just beginning meal planning, start with those four questions in mind.
Once you have a few meals picked from combining what you have on hand with what's in the flyers, look at the spaces you have left to fill. Will you eat leftovers one night? Is there a new recipe you've been wanting to try? Can you think of an old favourite recipe that you haven't made in a while? Do you have a really easy meal that would be quick to throw together on your most busy day? Fill the empty days with those.
Now that's I've given you the "how-to", here's what I've come up with for my family next week:
Meal Plan
Saturday
-
Cottage cheese pasta
, salad, and bread
Sunday
- Chicken pie (I guess I've never blogged this simple recipe my family loves, but I will this week)
Monday
-
Veggie enchiladas
and salad
Tuesday
-
Rainbow chicken
(with the changes I mentioned in the post)
Wednesday
- Roasted tomato fettuccine (based on
this Rachel Ray recipe
. Again, I don't know why I have never posted it before, but I will this week)
Thursday
-
Parmesan-crusted porkchops
,
best broccoli of your life
, roasted potatoes (the link takes you back to an early Hungry Janey post from 2007, so you have to pardon the blurry photo)
Friday
- BBQ chicken pizza and salad (thin crust, bbq sauce, shredded chicken, carmelized onions)
Grocery List
(I will be going to
No Frills
, so the prices listed are for there...plus the price matching as indicated)
Broccoli @ $1
Grape tomatoes @ $1.50
Apples (4lbs bag) @ $3
Red peppers @ $2.99/lb (Price match to Superstore)
Zucchini @ $1.49/lb (Price match to Superstore)
Red onion (2lbs bag) @ $1.99 (Price match to Sobeys)
Salad greens
Green onion
Garlic
Basil
Bananas
Country Harvest Sprouted Grain bread @ $2.50 (Price match to Superstore)
Yogurt
Eggs
Welches Frozen Fruit (600g) @ $3
Frozen spinach
Unico black beans @ $1
Hunts pasta sauce (680ml) @ $1
My meal plan is only a guideline for myself, since I'm one who cooks all the meals in my house. I'm not concerned about swapping planned dinners between days, as long as nothing goes to waste. (Throwing out food is one of my biggest irritations!) Also, I keep ingredients in the house for some of our favourite easy meals in case the mood strikes (pizza, fajitas, rice bowls, etc).
I'm toying with the idea of switching one of my planned meals with that
Crockpot Beef and Broccoli
that people keep sharing on Facebook, using the roast beef that is on sale for $2.99/lb at Superstore. Has anyone actually made it to vote yay or nay?
I kind of feel like this post was just a bunch of rambling...so please be sure to tell me whether or not it was helpful, or what I could do to outline things better. Happy planning!