When I see
Degenhardt's
sausage on sale, I can't resist them. The Degenhardt family makes the most delicious sausages I have ever tasted, and the do it right here in New Brunswick (though you can purchase them across Canada and the US). They contain no fillers, no gluten, and no MSG, and they are Celiac certified.
We love a variety of their sausages, but the chorizo sausage is a real treat. When I arrived at the store to see an in-store special on both chorizo sausage and green peppers, I knew stuffed peppers should make their way into our meal plan. After a bit of searching online, I couldn't find a recipe that seemed like what I wanted. I improvised and came up with this recipe, which used a variety of leftover odds and ends in the fridge. I love when leftovers don't feel like leftovers! These were fresh, flavourful, and just a little spicy. I'll definitely be repeating them!
4 green peppers
1/4 diced onion
1 Lb chorizo sausage
3/4 C canned tomatoes
1 C cooked brown rice
1 1/2 ears of corn, corn removed from cob (approximately 3/4 C, if using frozen corn)
3-4 Tblsp white cheddar
Cut tops off green pepper, and remove all seeds. Place in an oven-safe dish, and set aside.
Saute the onion in a little olive oil until softened. Remove sausage from casing, and add to the pan. Brown and crumble until cooked through. Add tomatoes, rice, and corn. Stir to combine.
Fill each pepper with sausage mixture, and top with a little cheese. Add a little water to the baking dish, just a little more than what's needed to cover the bottom of the dish. Cover loosely with foil, and bake at 425` for 15-20 minutes.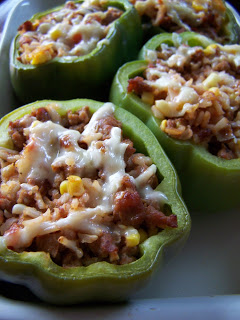 *I'm not being compensated for any endorsements or reviews in this post.*