When I found
this recipe
via Pinterest, I knew I had to try it. I love finding new meals that I can prepare in the morning (when I have energy and some spare time), and then just throw in the oven at dinner time (when I'm low on patience and the kids need my attention). You could also put this together the night before, and just bake it when you get home from work. The kids found it a little spicy, but we really enjoyed it. It's one of those recipes that can really be made with whatever vegetables you have in the fridge. Next time, I think I'd leave out the white potatoes and serve it with rice (which would please the kids), and I'd add some red or orange pepper and a zucchini. I think I'll try that combination next week!
Spice Rub
2 tsp smoked paprika
1 tsp cumin
1 tsp salt
1/2 tsp black pepper
1 Tblsp white wine vinegar
1 tsp olive oil
2 cloves of garlic, minced
1 potato, chopped bite-sized
1 sweet potato, peeled and chopped bite-sized
1 green pepper, chopped
1 onion, diced
2 carrots, peeled and sliced
1 chicken breast, cut in to bite-sized chunks
1 lemon, sliced thinly
In a large bowl, mix all ingredients for the spice rub mix to combine. Add all the vegetables and chicken pieces, and stir to coat. Once things are evenly coated, empty bowl in to a greased 9X13 pan. Top with lemon of slices, and cover with foil. Bake at 425` for about 40 minutes.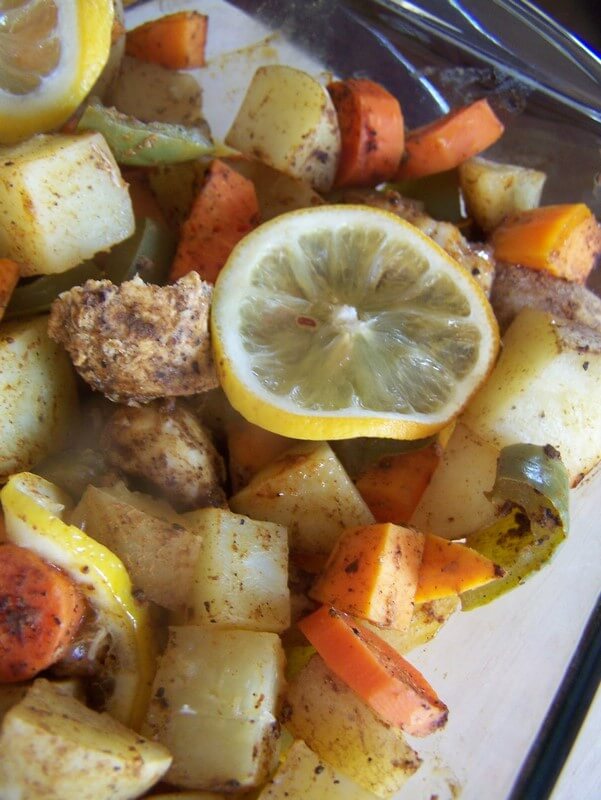 I'm thinking about a doing a series on "Make it in the Morning" meals. Let me know if that's something you'd be interested in seeing!
Update: I made this again with the changes I mentioned above. Omitting potatoes and adding red pepper, orange pepper, zucchini, and red onions definitely did a lot to make this dish live up to the name "rainbow"... and it tasted great! We enjoyed it over rice.