Last night's side...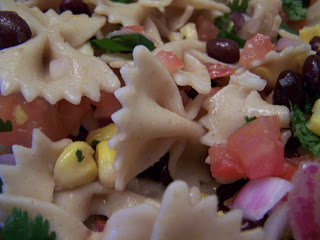 Combine whole-wheat bowtie pasta (cooked al dente) with Jane's Salsa (recipe below). Drizzle with olive oil when combining.
Jane's Salsa
3 tomatoes, chopped
1/2 cup red onion, chopped
1/2 cup chopped cilantro
3 cloves garlic, grated or diced
1/2 can black beans, rinced
1/2 cup frozen corn
1 t garlic powder
1 t red pepper flakes
Combine tomato, onion, cilantro, and garlic.
Rince black beans and combine in pan with frozen corn. Cook over medium heat, sprinkling with garlic powder and red pepper flakes. Cool, and add to mixture.
Drizzle with lime juice and spinkle with coarse salt. Allow flavours to combine fridge for at least 2 hours before serving, ideally overnight.