Yesterday's project...
courtesy of a fellow blogger
: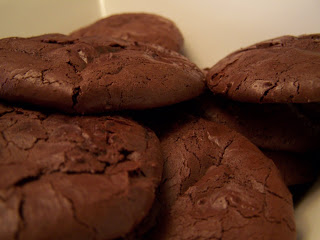 2 1/4 cups icing sugar
1/4 teaspoon salt
1 teaspoon instant coffee
1 cup cocoa
3 large egg whites
2 teaspoons vanilla extract
Whisk together the sugar, salt, espresso powder, and cocoa. In a medium-sized mixing bowl, stir together the egg whites and vanilla. Add the dry ingredients to the egg whites, and mix at low speed of an electric mixer for 2 minutes. The batter will seem dry at first, but will become shiny and smooth as it mixes. Cover the bowl, and refrigerate the batter for 3 hours, or up to overnight.
Preheat the oven to 350°F.
Drop the dough in ping pong-sized balls onto the prepared baking sheets - grease pan or use silpat or parchment. Bake the cookies for 12 minutes. Remove from the oven, and cool on the pan for several minutes before transferring them to a rack to cool completely.
Just 86 calories and 1.5 grams of fat per cookie (yields 16 cookies)