For the second year in a row, I hit
Country Harvest
(a local produce stand) on the day they were closing for the season. Once again, I bought an obscene amount of pears. Like, 44 Lbs worth. And in case you are wondering what 44 Lbs of pears looks like...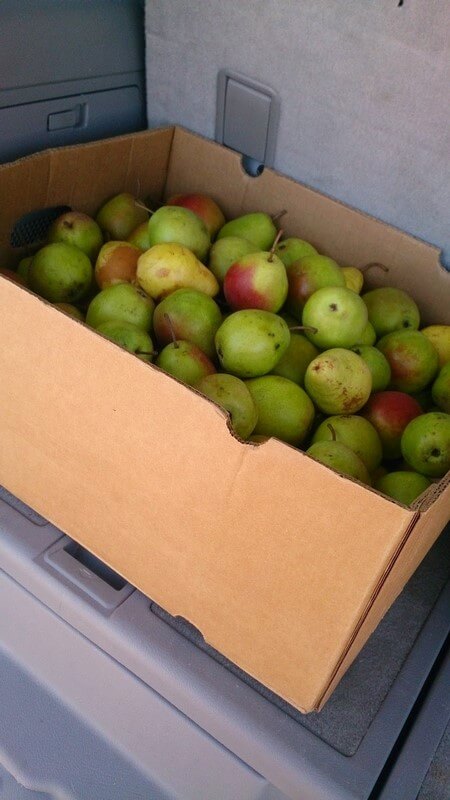 Do you want to know how much I paid? $15! $15 for 44 Lbs of pears...$0.34 per pound for fresh local pears! Since pears are my kids' favourite fruit, this deal was extra exciting for me.
Like last year, I canned most of them (
as described here
) and froze some slices for snacks, smoothies, and baking. Of course, I have been stocking up on new pear recipes to try. Out of all the new recipes I tried this fall, I think
this one
(which I've adapted slightly) was our favourite. It makes two loaves, which is great for our hungry family, but you could always freeze one or share with a neighbour. This bread has a lovely crust, a subtly sweet flavour, and a a perfect texture. If you don't have an abundance of pears or if they aren't your personal favourite, simply make this an apple bread using apple sauce and chopped apples in lieu of the pear.
1/2 C oil
1/2 C pureed pear
3 eggs
1 C sugar
2 tsp vanilla
3 C flour
1 tsp baking soda
2 tsp baking powder
1 tsp cinnamon
1 tsp nutmeg
1/2 tsp ginger
1 1/2 tsp salt
2 C chopped pears
1 Tblsp sugar, for sprinkling (optional)
Mix oil, pureed pear, eggs, sugar, and vanilla until smooth and uniform. In a separate bowl, whisk all dry ingredients to combine. Stir dry ingredients into wet mixture until just combined. Gently fold in chopped pears. Spread into two greased loaf pans and sprinkle with sugar, if desired. Bake at 325' for 55-65 minutes, or until tests done. Allow to cool completely before slicing.