Working with an abundance of pears that I bought on sale and on a whim, I made
this coffee cake
recently (found on
One Hundred Dollars a Month
). I knew it was going to be delicious when one of the wee ones and I licked the spoons, and the sweet vanilla batter tasted amazing! It worked very well with the pear and the crumble topping, but I am also looking forward to using this same vanilla cake with different flavours and add-ins.
When I made the crumble top, it seemed like way too much for an 8-inch pan, and I thought I'd tell you to half it. Well, nevermind! It seems like a lot before it is baked, but it forms a light crust and is a lovely addition to the cake. Perfection! Gently pat some of it down right on top of the batter before sprinkling the rest loosely on top.
Cake
2 C flour
1/2 tsp salt
1 1/2 tsp baking powder
1/2 C butter
3/4 C sugar
1 egg
2 tsp vanilla
1/2 C milk
3 C pears, peeled and chopped
Crumble
1 tsp cinnamon
1/4 tsp salt
1/3 C brown sugar
3/4 C flour
4 Tblsp butter
Sift flour, salt, and baking powder together. Set aside. In a separate bowl, beat butter and sugar until fluffy. Add egg and vanilla, and beat well. Alternating adding flour mixture and milk to the butter mixture, beginning and ending with flour. Fold in chopped pears to distribute. Spread into a greased 8X8 pan.
Combine all dry ingredients of crumble. Add butter, and mix with your hands until coarse crumbs form. Sprinkle a little over half of the crumble on the cake, and pat down gently with your hands. Add the remaining crumble lightly on top.
Bake at 350' for about 1 hour, or until cake tests done.
See that awesome crumble topping?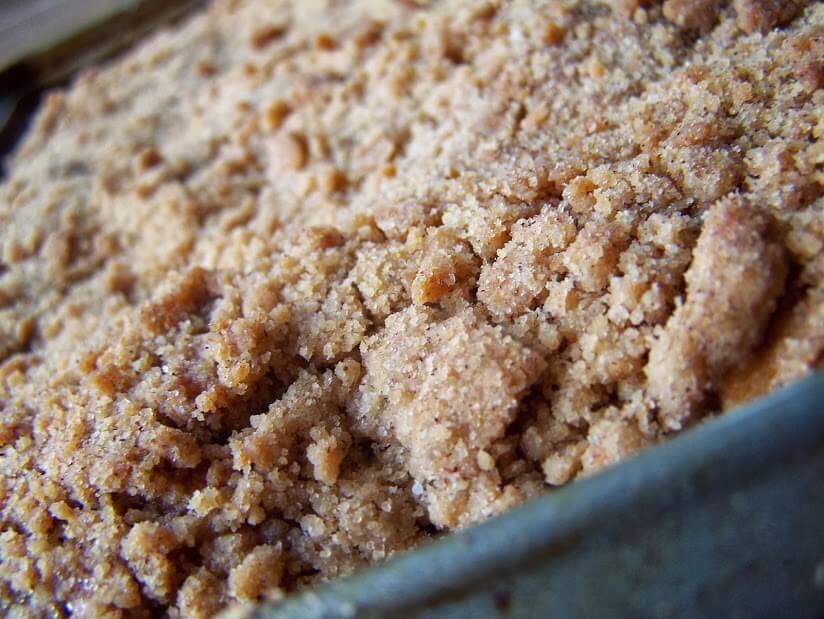 Mmmm....Pear-licious!