On the closing day of a local produce stand, I bought A LOT of pears. Like, 15Lbs. When I walked in the house with about 60 pears, my husband was scratching his head. And when I unloaded the bags and the pears filled more than half of our kitchen island, he thought I had lost my marbles.
Our kids love pears, but when the prices are high or quality is low, I buy them canned. When I saw this great deal, I thought why not try canning some myself? (Did I mention that I paid $7.98? For 15Lbs? $0.53/Lb for local pears? Giddy up!)
I read several posts, articles, and recipes online about canning pears before I settled on
this process
from
Pick Your Own
. I tried several of the reader tips included there with success, so I'll be sharing them with you here.
Sterilize your jars by placing them in a large pot of boiling water for about 10 minutes. The lids and rings can also be sterilized by boiling for about 5 minutes. (I filled 9 500ml jars)
Prepare your pears
by peeling, coring, and slicing them as desired. (I did halves and quarters) I learned a great trick to peel pears quickly and easily, as demonstrated in this video. Once peeled, allow the pears to soak in a bowl of salted water until ready to use. (I used about 20 pears)
Prepare your syrup by dissolving 2 1/2 C sugar in 7 1/2 C water. Bring to a boil. Lower the heat and keep just below a boil for hot packing the pears.
Rinse pears before placing into sterilized jars. Allow 1/2-inch of space before the top of the jar.
Pour syrup into jars. Allow 1/2-inch of space before the top of the jar, ensuring all fruit is covered.
Slide a butter knife between the fruit and the jar to release any air bubbles.
Wipe any spillage off the mouth and rims of the jars.
Place lids and rings on the jars.
Place jars in a large pot of boiling water, ensuring they are covered by at least 1-inch of water. Boil for 20 minutes.
Remove jars from water carefully with tongs. Place somewhere they won't be bumped or jostled overnight.
Ensure that all caps have sealed. If any lids have not sealed (and can still be pushed in), store in the refrigerator and use them first.
Someone was very excited to wake up to all these jars of pears!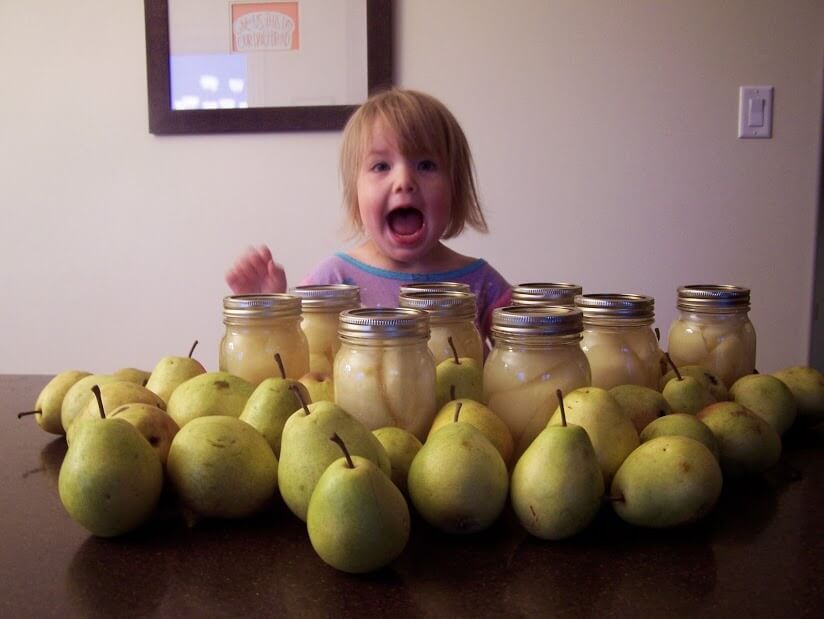 In addition to canning pears, I froze some. I simply peeled them using the method above, and sliced them into thin slices - similar to preparing for a pie. I flash froze them by placing on a parchment-lined baking sheet until frozen, and then transferring into freezer bags. I planned to use them in baking, but have been pleasantly surprised that the kids like to snack on them while still frozen.
Do you have any favourite pear recipes I should try? I'd love to hear about them!