Peanut Butter. Chocolate. Sweet. Salty.
If you are anything like me, you don't need to hear any more than than that. But for anyone who needs a little bit more information, let me tell you about this great new product I had the chance to sample...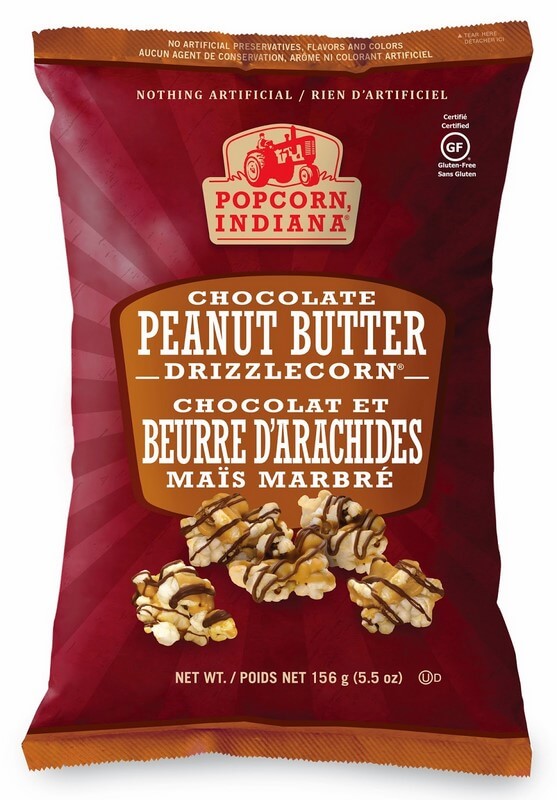 This indulgent popcorn is the ultimate choice for those who, like me, love a sweet and salty combination. The large puffy popcorn pieces are generously drizzled with peanut butter and chocolate, and are unbelievably delicious. Having a child with a peanut allergy means that my husband and I had to devour the whole bag in one evening while the kids were sleeping...It was the only responsible thing to do, right?! Or maybe we couldn't stop ourselves!
Unlike many popcorn products, it uses Non-GMO corn. And unlike so many of the most popular treats, it contains no artificial flavours, no artificial preservatives, no artificial colours, no high-fructose corn syrup, and zero grams of trans fats. I challenge to to show you me another decadent, affordable goodie that can compare! You know what else? This treat is kosher and gluten-free!
I would love to give you the chance to try it too! Enter below to win 6 bags of Popcorn Indiana's Chocolate Peanut Butter Drizzlecorn. How popular would you be if you brought it to a holiday party?!
*This is a sponsored posts. I have received free product and/or compensation for this post. The opinions featured here are always honest and my own.*