I know...You read that title and thought "lentils in cookies?!" But seriously, these cookies are crazy-good! The lentils end up just adding more texture and chewiness to these cookies, and you'd never guess they are in there. The texture just looks and tastes like oatmeal! I found
this recipe
on t
he Food Network's website
, but it is originally from
Lentils.ca
(one of the sponsors of the contest I had entered with my
spicy lentil burger
) .
1/4 C dry red or green lentils (or 1/2 C cooked canned lentils)
1/2 C butter, room temperature
1/2 C brown sugar, packed
1/2 C white sugar
1 egg
1 tsp vanilla
1 1/2 C flour
1 C rolled oats
1 tsp baking soda
1/4 tsp salt
1/2 C dried cranberries
1 C white chocolate chips
Cook lentils in boiling water for 10-15 minutes, or until tender. Drain and set aside.
Beat butter, brown sugar, and white sugar for several minutes until fluffy. Add egg and vanilla, and beat well. Mix in lentils until well distributed. In a separate bowl, combine flour, rolled oats, baking soda, and salt. Add dry mixture to wet and stir until incorporated. Fold in dried cranberries and white chocolate.
Drop by spoonfuls onto baking sheet, and bake at 350 for about 10-15 minutes or until just lightly browned.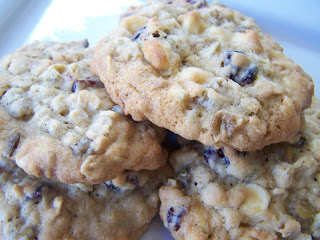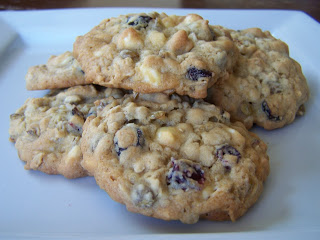 If you love cranberries as much as I do, you want to check out some of these great recipes with cranberries!
In searching to share the link for some amazing Cranberry White Chocolate bars, I realized that I've never posted the recipe! I'll have to make them this week and share them with you.
They are unreal!