I love a versatile meal that can be made quickly on a whim. Throwing together these easy fajitas is faster than going to pick up a pizza, and can use just about anything you have on hand! From the moment I say "fajitas tonight?" until the plates hit the table is about 12 minutes. Everyone can assemble their own, which makes it meal popular with my kids. (We do the same with rice bowl, personal sized pizzas etc)
I often slice and freeze peppers when they are on sale, which makes it easy to throw a handful into this mix, and I always have corn and chicken breasts in the freezer. Otherwise, I use whatever is in the fridge in my fajitas. Other frequent additions are black beans, mushrooms, and cooked cubed sweet potato.
1 chicken breast
1 onion, sliced
1 clove garlic, minced
1 C sliced peppers
1/3 C frozen corn
2 C baby spinach (or chopped kale/swiss chard)
1/2 tsp cumin
1/8 tsp cayenne (if desired)
Salt and pepper to taste
1/2 C grated cheddar cheese
Salsa, sour cream, guacamole (if desired)
Tortillas
In a hot pan with a little olive oil, saute onions until soft. Add garlic, and stir in to coat onions. Add sliced chicken breast, sprinkle with salt and pepper, and cook through. Add peppers (add mushrooms here, if using) and cook until slightly softened. Add cumin and cayenne, if using. Stir in corn and baby spinach (add black beans and cooked sweet potato here, if using.). Cook until spinach wilts. Serve on tortillas with cheese and toppings, as desired.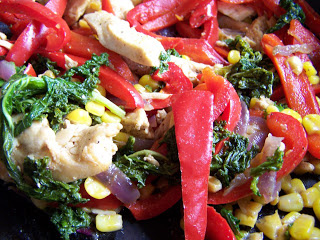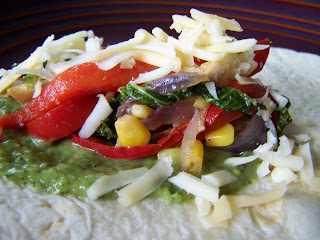 We find this to be the easiest way to fold the tortillas for the least amount of spilling.
Fold the bottom over the filling...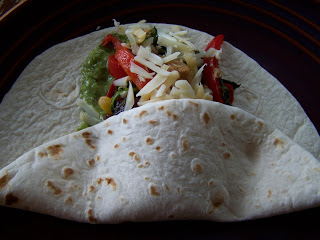 Then fold one side over the centre...
Then fold the other side over the centre for an easy-to-handle pocket.