This recipe
is clean eating recipe that tastes amazing! You won't miss all the junk (ie preservatives and other hard to pronounce ingredients) from this salad dressing. It's gluten-free, dairy-free, paleo, and vegan...but I think anyone would enjoy its fresh flavour and creamy texture, regardless of dietary restrictions. I've been putting it on everything this week!
1/2 Lbs (about 4) tomatillos, quartered (husks removed)
1/2 jalepano, chopped
1/4 spanish onion, chopped
1 C (packed) cilantro
2 cloves of garlic
1 Tblsp honey
1 avocado
1 lime, zest and juice
Combine all ingredients in food processor, and process until smooth. Yields approximately 2 1/4 C of dressing. Wrap closely with plastic wrap and store in refrigerator.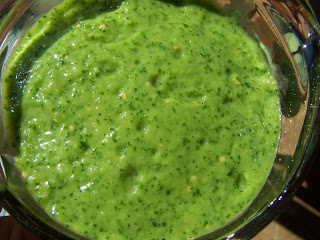 Delicious on a green salad!