This little thing is amazing. I don't understand it, but it's amazing. Any veggie, any seasonings, no oil, and 3-4 minutes in the microwave. I've made delicious chips with white potatoes, sweet potatoes, and apples, but it never occurred to me to try kale chips on it until today. Oh baby! So much faster than making kale chips in the oven, plus no need to heat up the house on a hot day...and no oil! Anything that has my kids snacking on greens is aces in my books.
Kale, 1-2 ribs per batch
Salt, to taste
Other Spices, as desired
Remove kale leaves from stalk. Tear in to bite-sized pieces. Lay in a single layer on the Chipster. Season as desired with salt, pepper, or additional spices. Cook in microwave on high for 4-4 1/2 minutes, depending on power of microwave (4 minutes was perfect in my 1500W microwave).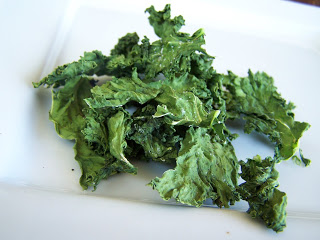 Ruthie says: "What? Do I have something on my face? In my teeth?"