We love pizza around here, and I make it almost every week. (Check out some of the pizzas I've blogged about
here
) For ages, I used the whole-wheat pizza dough recipe that was in the manual for our breadmaker, but that took some advance planning. Several months ago when I wanted to make pizza on a whim, I did a quick Google search and found
this recipe
. It's fast to make, easy to work with, and cooks up well. It's the only crust I've made since the day I've found it. I can't wait until BBQ season to throw some
pizza on the grill
...one of my favourite things!
3/4 C warm water
2 1/4 tsp dry active yeast
1/4 tsp sugar
1 3/4 flour (This recipe works best with white flour)
1/2 tsp salt
Preheat oven to 500` (Yes, I know. Crazy hot. Trust me on this one!) I use a Pampered Chef baking stone, and I place it in the oven as it preheats.
Combine water, yeast, and sugar. Allow to rest for 6-8 minutes until foamy. Combine flour and salt. Stir wet and dry ingredients together until a shaggy dough forms (I do this by hand), then knead until a soft dough forms (I do this in my KitchenAid with the dough hook).
Stretch your dough and roll thin on a well-floured cutting board, if using a pizza stone. (If using a pizza pan, stretch your dough directly on to the greased pan) Top with sauce and toppings as desired. Once oven is to temperature, slide pizza from cutting board to hot baking stone using a large spatula. (Or, obviously, just put your pan with pizza on it in to the oven)
Bake for approximately 10-12 minutes, until crust is crisp and the cheese is bubbling. You can use a spatula to check the colour on the bottom. Watch it closely, as a minute or two means a lot at 500`!
See how thin it is?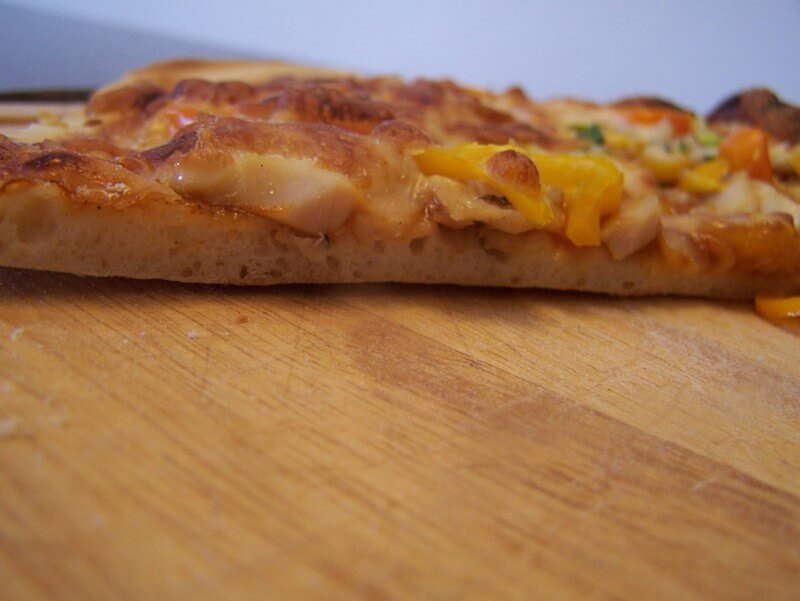 And crisp. So lovely and crisp!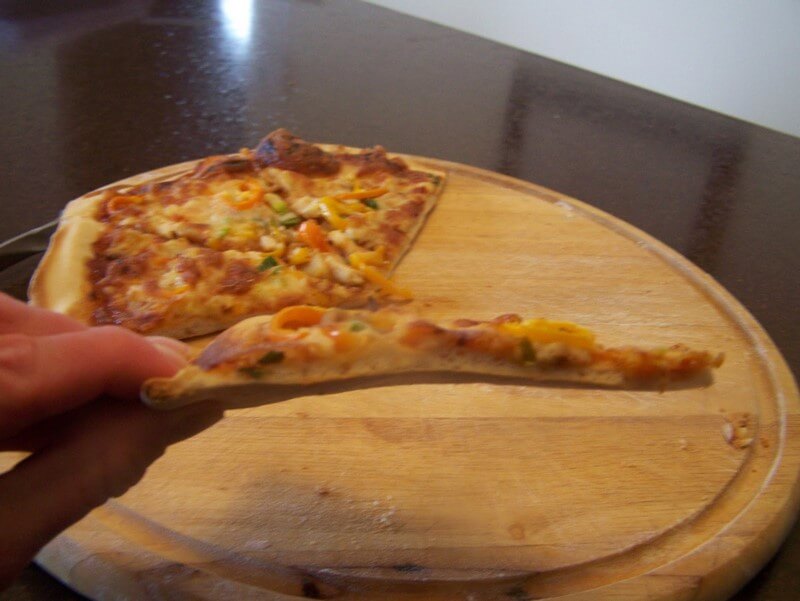 (PS: Yeast is one of those things that is way cheaper at Bulk Barn than at the grocery store. Buy it there, then store it in a glass jar in the fridge)