This pizza just made my whole week!

I have made grilled pizza 3 ways. This recipe will explain my favourite, but I'll post the other methods after the picture of the finished product.

1 batch of your favourite pizza dough
(I use the recipe from my bread machine manual with whole-wheat flour)
1 full bulb of garlic
Olive oil
2 small onions, sliced
Brown sugar
8-9 cups of mixed greens
(we had swiss chard, arugula, spinach, and beet greens)
1 1/2 cups shredded mozzarella cheese (approx)
Cut the top off of the bulb of garlic so that there is a slice off of each clove. Drizzle with olive oil, wrap with tinfoil, and bake at 400' for 35 minutes. BAM! You just made heavenly roasted garlic. Scoop out all the soft garlicy goodness, and place in a small ramekin. With a fork and a little olive oil, work the garlic into a paste. Set aside.
Saute onions in a little olive oil until softening. Gradually add brown sugar (approx 1 Tblsp) to help the onions caramelize. Set aside.
Wash and trim greens (be generous - it cooks down SO much). In a wire strainer over boiling water, steam greens in batches. Set aside.
Light your BBQ and place a pizza/baking stone on the cold grill, so it can warm up gradually.
On a
well-floured
cutting board, place your stretched pizza dough. Spread your roasted garlic paste over the crust. Top with carmelized onions, steamed greens, and mozzarella cheese.
Lower BBQ temperature to medium. Loosen pizza from cutting board with a spatula, and slip onto the hot baking stone. Cover BBQ, and allow to cook for approximately 10 minutes. With a spatula, lift and check the underside of pizza until desired crispness is achieved. (It can change quickly, so check it every 2-3 minutes after the 10 minute mark.)
Just looking at this picture makes me wish there were leftovers to snack on now, but it was a hit with the whole family!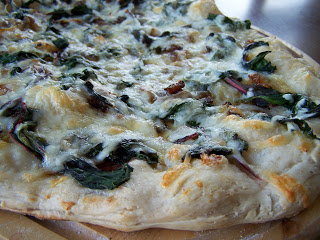 If you don't have a baking stone, there are two other easy options for grilling pizza:
1. Buy pre-made/baked pizza crusts from the bakery section of the grocery store. Build your pizza, and grill it directly on the rack.
2. Use your own pizza dough recipe. Stretch the dough, and place over medium heat directly on an oiled grill for 5-7 minutes, until partially cooked and stiffening. Carefully remove from grill and place cooked-side-up on a cutting board. Build your pizza and return to the grill, cooking directly on the rack.