When I was
meal planning last week
, I asked if anyone had tried the slowcooker beef and broccoli recipe that was being shared all over Facebook. While the original source wasn't cited, a quick google search lead me to
this recipe
.
"Just a Pinch"
seems like an interesting recipe sharing site, so I'll have to look around and see what other yummy things I can find there!
The original recipe called for a boneless beef chuck roast. This is a prime example of something that can be really frustrating when trying a new recipe (particularly one with beef): nothing at my local grocery store is labelled "boneless beef chuck roast". There are quite a few different names for the same cuts of meat. I've found
this list
to be a great source for identifying different names for various cuts of meat, and finding potential substitutes using other cuts. Since the original recipe called for chuck (which is a shoulder portion), you can go right to the
chuck section of that site
to find some suggestions. I wanted something that was economical and that came in a smaller portion at my grocery store, and I settled on a cross rib quick roast.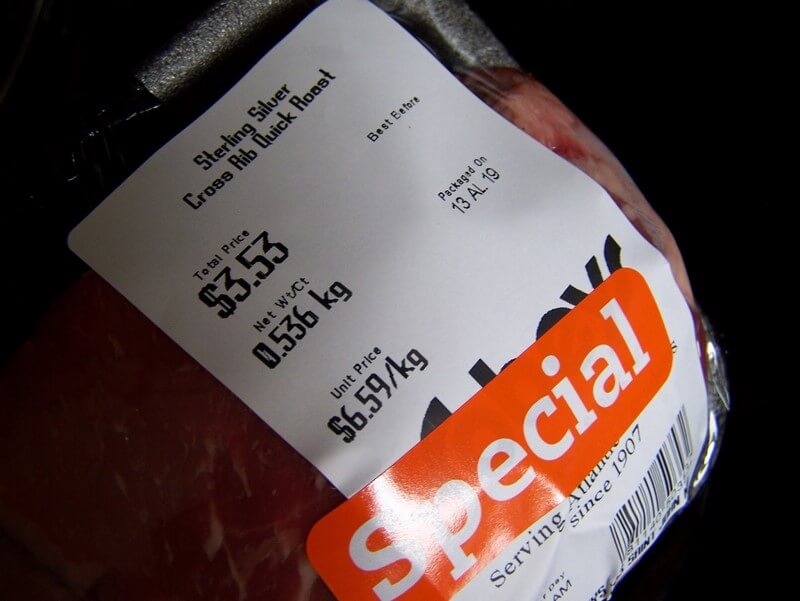 I tweaked the recipe ever-so-slightly, because it was
just asking
for some ginger and I thought 1/2 cup was way too much soy sauce. I drastically cut back the cooking time when I checked on it at the halfway point, and it was fully cooked. If the original recipe tells you to slice the beef into thin strips, how on earth do they expect it to cook for 8 hours? After 4 hours on low, the beef was practically falling apart when I touched it with a fork. Perhaps the faster cooking time was a result of using a different cut of meat, but I really don't feel like the difference in tenderness would result in an extra 4 hours of cook time. All said and done, we liked this recipe...but we didn't absolutely love it. I think I just really prefer the texture of both the beef and the broccoli when stirfried. I like beef in a stirfry to have the texture of steak, and this is obviously roast beef. My husband, Josh, liked it a lot more than I did (I think because I'm not a big beef-eater anyway), so I may save this recipe for nights when I am leaving him dinner on my way out. If you are a roast beef fan, I bet you'll really enjoy this recipe. The sauce is very flavourful without being spicy.
1 Lb (+/-) cross rib quick roast beef
1 cup beef broth
1/4 cup soy sauce
1/3 cup brown sugar
1 tablespoon sesame oil
3 garlic cloves, minced
1 tsp fresh grated ginger
---
2 tablespoons cornstarch
2 tablespoons sauce from the crock pot after being cooked
3 Cups (+/-) broccoli florets
(Serve with rice. I rarely make anything other than Rooster Brand Scented Rice. Love that stuff!)
Slice beef in to thin strips and place in slowcooker. Combine broth, soy sauce, sugar, sesame oil, garlic, and ginger. Pour over beef and stir. Cook on low for 4 hours. Remove 2 Tblsp sauce and combine with 2 Tblsp cornstarch. Stir until smooth, then return to the slowcooker. Stir to combine with the remainder of the sauce. Add broccoli and stir to coat. Replace cover, adjust temperature to high, and cook for another 30 minutes. Serve over rice.