In my mind, the best thing about having a chicken dinner (or turkey dinner) is making meals from the leftovers: Hot chicken sandwiches, chicken soup, chicken nachos, chicken pie! Chicken pie is one thing that my pickiest eater will gobble up every time...but don't have the time or the inclination to make a chicken dinner each week. As a result, I think I've perfected the "chicken pie without a chicken dinner".
While this isn't a true "make it in the morning" meal (because I haven't had great results letting the filled pie sit in the refrigerator all day), you can certainly make it ahead and freeze...or make the filling in the morning, and the crust just before baking, or (gasp!) use a store-bought pie crust. Whatever works for you!
Chicken Pie Filling
2 Tblsp butter
2 Tblsp flour
1 C chicken stock
Salt and pepper to taste
----
1 cooked chicken breast, chopped fine (about 1 C)
3 C mixed frozen vegetables (peas, corn, carrots, etc)
Melt the butter in a medium-sized pot over low heat. Stir in the flour until the mixture is smooth and bubbly. Gradually whisk in the chicken stock until smooth. Heat to boiling, stirring constantly, and boil for 1 minute. Add salt and pepper to taste. Remove from heat, and stir in frozen vegetables and chopped chicken to coat.
2/3 C + 2 Tblsp shortening
2 C flour
1 tsp salt
4 Tblsp cold water
Put shortening, flour, and salt in to food processor. Pulse until mixture is crumbly. Turn food processor on low and pour all the water in at once while it is running. Stop the food processor when the dough leaves the sides of the bowl, but before the dough forms a ball.
Shape the dough in to two balls with your hands. On a well floured surface, roll one ball into a circle (about 1-2 inches larger than the upside-down pie plate). Place dough in pie plate and press well against the bottom and sides of the plate. Fill the crust (recipe above). Roll remaining ball into approximately the same sized circle, and top the pie. Fold the top crust edge around the edge of the bottom crust and flute to seal. Using sharp knife, slit the top crust to allow steam to escape.
Bake at 425` for about 35 minutes, until crust is golden. If edges are browning too much (often the case after about 20 minutes), wrap long thin strips of foil around the pie's edges.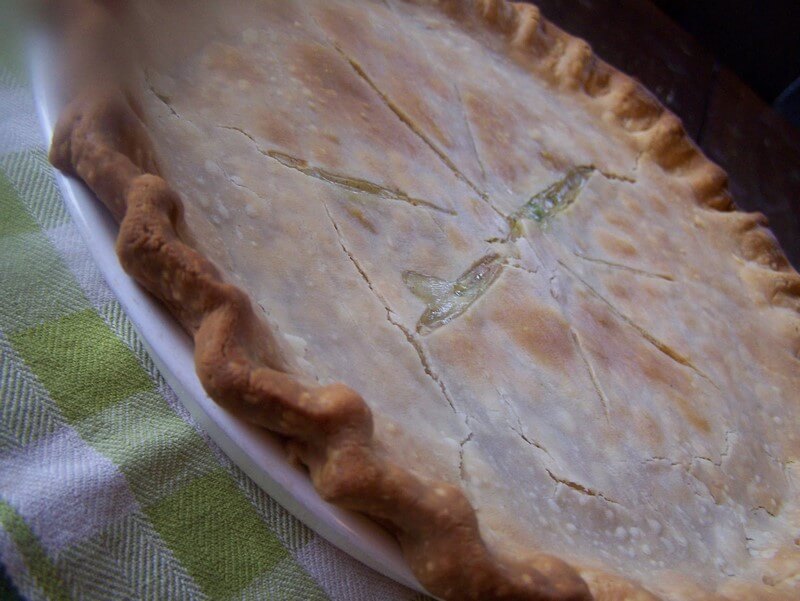 (Just noticing there's a wierd smudge on the camera lense. Ooops!)