I love to entertain, but I always try to do it while keeping my budget in check.
What do you think about a dinner party for 6 for $40?
I'm teaming up with Chef Kim Steele, owner of
East Coast Bistro
in Saint John, to bring you a monthly feature where we'll present you with everything you need to host your own $40 dinner party. Dinner for six for $40? Less than $7 per person? I doubt you could take 7 people through a drive-thru for that! Each month, we'll bring you a new menu, grocery list, recipes, and photos. Get ready to have fun in the kitchen and entertain your friends at home, elegantly and on a budget.
We're kicking off this new feature with a 3-course Mexican-inspired dinner party, perfectly suited for Cinco de Mayo this coming weekend.
I've walked the aisles, and everything on our grocery list can be purchased for under $40 (at the time of writing - some items are currently on sale). Check your fridge, freezer, and cupboards before you go shopping - you may already have several items on hand! We assume that you have a few basics already in your pantry (as seen in the pantry needs list), but double-check that list before you go shopping. I've noted a couple items that I suggest you buy at Bulk Barn. When I am trying a new recipe with new ingredients, I often pick up just the amount required at Bulk Barn to cut costs. In this case, I bought the corn flour, cornmeal, and chipotle powder for just $1.18.

Without further ado, here's our Mexican-Inspired $40 Dinner Party.
(A printer-friendly version of all recipes can be viewed
here
)
Ablodigas Soup
1 Lb ground beef
1 egg
1/3 C uncooked white rice
1/4 C fresh cilantro, chopped fine
1/4 C fresh parsley, chopped fine
1 tsp salt
1/8 tsp cinnamon
1/8 tsp all spice
1 tsp cumin
1/2 tsp pepper
-----
2 carrots, peeled and chopped
1 onion, chopped fine
1 clove of garlic, diced
3 Qt (2.8L) beef stock (could substitute chicken or vegetable stock, if desired)
1/2 C tomato sauce
1 C frozen corn
To begin, first make the meat balls. Combine ground beef and egg with your hands. Mix in uncooked rice, then add all the herbs and spices. Mix with your hands to combine. Roll in to 1/4 inch meat balls, and set aside.
Saute onions, garlic, and carrots in a little olive oil until softened, about 5 minutes. Add stock and tomato sauce. Bring to a boil, then reduce heat to simmer. Add meat balls one at a time to the simmering soup. Let simmer for about 30 minutes. Add frozen corn and simmer for another 5 minutes. Serve hot, garnished with cilantro.
This soup can be made entirely in advance (even the day before) and reheated before serving.
Cornbr
ead
1/2 C corn flour
1/2 C all-purpose flour
1/2 tsp salt
4 tsp baking powder
2 Tblsp sugar
1 C cornmeal
1 C buttermilk (1 Tblsp lemon juice or vinegar, and enough milk to make 1 C. Let stand several minutes)
2 eggs
2 Tblsp butter, melted
1/4 frozen corn
Toss frozen corn in a hot pan with a little olive oil and salt, if desired. Toast for about 3 minutes, until brighter in colour. Set aside.
Sift flours, salt, and baking powder together. Stir in sugar and corn meal. In another bowl, combine buttermilk, eggs, and melted butter. Make a well in the center of the dry ingredients, and pour in the wet ingredients. Stir to combine. Spoon into a greased 8-inch pan. Sprinkle toasted corn on top. Bake at 375` for 20-25 minutes.
Serve hot, or reheat before serving.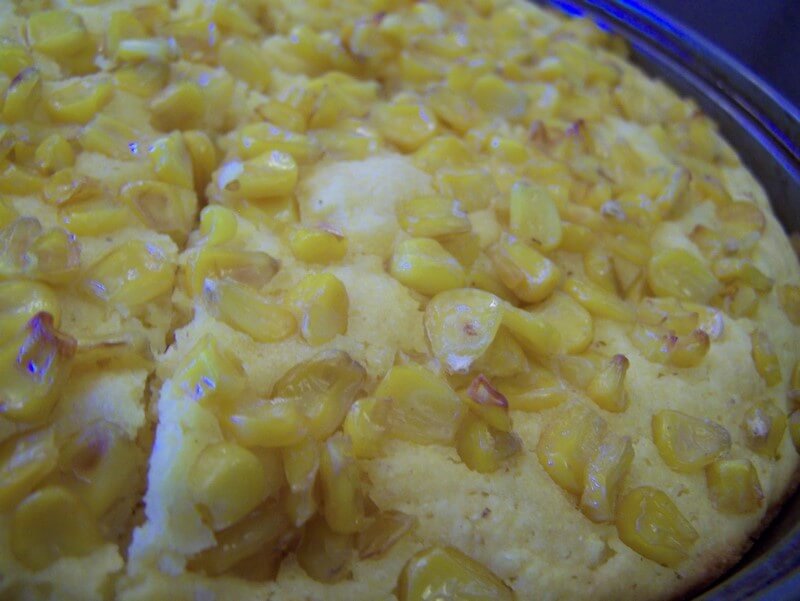 Calabacitas Layered Salad
2 sweet potatoes, peeled and sliced lengthwise into 1/4-inch thick slices and roasted (as outlined below)
2 pints grape tomatoes, blistered (as outlined below)
1 can black beans, drained and rinsed
1 C frozen corn, toasted (as outlined below)
2 avocados, halved lengthwise and cut in to long thin slices
Rub sliced sweet potato with a little olive oil and salt. Roast in a 375` oven for about 30 minutes. Chop, and set aside.
In a very hot pan, add a drizzle of olive oil and grape tomatoes. Sprinkle lightly with salt, if desired. Toss in the pan for several minutes, until the skins are discoloured and start to split. Set aside.
In a hot pan (you could do this immediately following the tomatoes), add frozen corn and a little salt, if desired. Toss in the pan for several minutes until toasted and brighter in colour.
All of the vegetables for this salad can be prepared in advance (even the day before) and assembled in layers on a platter before serving.
Place the black beans to fill the bottom of the serving dish, top with roasted sweet potato, blistered tomatoes, toasted corn, and sliced avocados. Serve family style, garnished with lime. Guests may dress their salads at the table with the vinaigrette prepared during the making of the shrimp. This salad is delicious served hot or cold.
Honey Chipotle Lime Shrimp
340g bag of peeled and deveined shrimp (thawed)
6 Tblsp olive oil
Zest of 2 limes
Juice of 2 limes
1 tsp honey
3/4 tsp chipotle powder
Combine olive oil, zest, juice, and chipotle powder. Remove about 1/3 of the mixture and set aside. Toss the remaining mixture with shrimp. Saute in a piping hot pan until shrimp is no longer cooked, about 1 minute per side.
*Take remaining 1/3 of olive oil mixture. Add another couple of tablespoons of olive oil and salt to taste. This will serve as the dressing for the calabacitas layered salad.
Tres Leche Cake
(from Marcela Valladolid)
(If this preparing this dinner party has been a stretch for you and you want to cut yourself a break on dessert, you can prepare a yellow cake mix
as directed here
in lieu of baking the cake below. We're not saying it will be the same...but everybody likes having options, right?)
1 1/2 C flour
1 tsp baking powder
4 eggs, separated
1 1/2 C sugar
1/2 C milk
1 can sweetened condensed milk
1 can evaporated milk
2 C whipping cream, divided
1 Tblsp sugar
1/2 tsp cinnamon
Combine flour and baking powder, and set aside.
Using a mixer, whip egg whites until frothy. While mixer is running, gradually add sugar until soft peaks form. Beat in egg yolks one at a time until well blended. Alternate adding flour mixture and milk to the egg mixture, beginning and ending with flour.
Pour batter into a greased 8-inch cake pan. Bake at 350` for about 30 minutes until cake tests done. Cool for about 10 minutes before inverting onto a large platter with a lip. Poke the cake all over with a fork or skewer Combine the sweetened condensed milk, evaporated milk, and 1 C whipping cream. Slowly pour the milk mixture over the cake, gradually, allowing it time to soak into the cake before adding more. (I find it easiest to do this with a ladle, so I can easily control where it goes and can direct it to the drier parts of the cake)
Store in the refrigerator until ready to serve. Before serving, beat remaining 1 C whipping cream with 1Tblsp of sugar until soft peaks form. Top cake with whipped cream and sprinkle with cinnamon before serving. (If you would prefer to prepare completely in advance, stabilize the whipped cream by adding 2 Tblsp icing sugar to it before whipping. Top cake as desired and sprinkle with cinnamon. Store in refrigerator until serving.)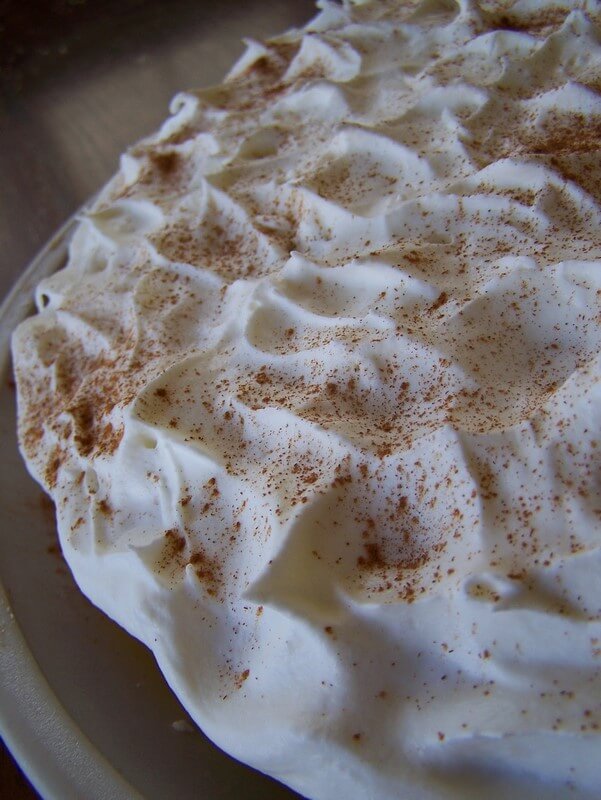 There you have it - A lovely 3-course dinner for 6 for $40...and I bet you'll even have leftovers!
Chef Kim and I would love to get your feedback on what you'd like to see in future $40 Dinner Party posts, and we'd love to hear (and see pictures) of how you make out with these recipes!
Grocery List
1 large onion
2 carrots
fresh parsley
fresh cilantro
3 limes
2 sweet potatoes
2 pints of grape tomatoes
2 avocados
1 Lb ground beef
340g bag of frozen shrimp
8 eggs
500ml whipping cream
1 bag of frozen corn
1 Qt (2.8L) stock
1/2 C (125 ml) tomato sauce
1 can evaporated milk
1 can sweetened condensed milk
1 can black beans
1/2 C corn flour - I recommend buying just the amount needed (1/2 cup) Bulk Barn
Corn meal - I recommend buying just the amount needed (1 cup) Bulk Barn
3/4 tsp chipotle powder - I recommend buying a small amount at Bulk Barn as this isn't a commonly used spice
Pantry Needs
garlic
white rice
sugar
baking powder
flour
olive oil
milk
butter
vanilla
honey
cumin
all spice
cinnamon
salt
pepper
*Any spices you don't already have on hand can be purchased in small quantities for very little money at Bulk Barn. Similarly, if you don't have the other dry pantry ingredients (rice, flour, baking powder, etc), consider purchasing just the quantity you need at Bulk Barn to cut costs.