My cousin shared
this
easy alfredo recipe with me recently, and I "greened-it-up" for Saint Patrick's Day. This recipe is an absolute keeper because Mr-Picky-Three-Year-Old had three servings!
1Tbsp butter
2 Tbsp garlic, minced
1 Tbsp flour
1 C milk
1/4 C cream cheese
1/4 C grated Parmesan cheese
1/4 C pureed spinach
Saute butter and garlic for 30 seconds until fragrant. Stir in flour, then slowly whisk in the milk. Stir constantly and cook until thickened slightly. Add cream cheese and parmesan, and whisk until smooth. (Stir in spinach puree if you want to be festive, or if you want to hide extra veggies) Add salt & pepper to taste.
I tossed it with linguine, peas, broccoli, and sliced chicken.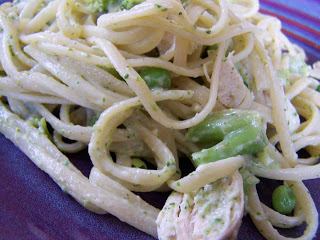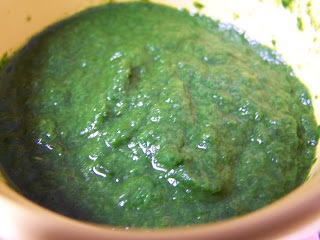 Four cups of fresh baby spinach steamed then pureed with a little cooking water yielded about 1/4 cup of this bright green puree.