The Winter Bruschetta at the
Saint John Ale House
is a little slice of heaven. I've been meaning to try to re-create it for a while, but it came to mind again this week when bargains on greens, goat cheese, and sour dough bread intersected. :)
This isn't a particular recipe so much as it is a suggestion of combined flavours. I followed the recipes at the sites I've linked to make the various ingredients. The actually bruschetta is quick to throw together, but some of the advance preparation is time-consuming. I'd suggest to prepare things ahead of time to have on hand so you can assemble the bruschetta quickly for your guest (or when you want a yummy treat all to yourself)!
Sour dough bread
Roasted garlic
Goat cheese
Arugula (just a tiny bit)
Slice bread approximately 3/4 inches thick. Spread with a little roasted garlic. Add some maple roasted squash. Press some of it down so it loses its form and adheres better to the bread. Top with goat cheese and a little arugula. Drizzle with balsamic syrup. Place on a baking sheet in a warm oven (375-ish, or just put it in with whatever else you might be making) just to warm.
Yum! I'm fighting the urge to eat the last leftover piece!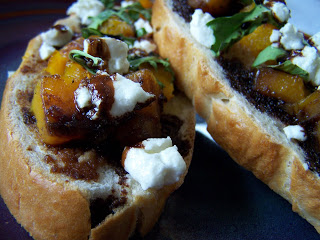 When I googled "balsamic syrup recipe", I was delighted to find that
the first recipe
listed was from Michael Smith. I know
I've told you before
that I love
Chef At Home
. Of course, it was his simple recipe that I used. There was a quote there that I just love and had to share: "A recipe is merely words on paper; a guideline, a starting point from which to improvise."