Trying to think of an easy snack to make for my book club meeting, I remembered these pinwheels that my aunt had brought to a party. It sounds like an odd combination, but the sweet and savoury offset each other wonderfully!

There aren't any 'real' measurements, because it depends on how many you want to make.

Start with a large tortilla. Top it from edge to edge with spreadable cream cheese. Sprinkled with chopped green onions (both the green and the white), chopped dried cranberries, and feta cheese. It will look something like this: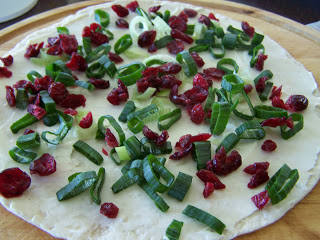 Roll up as tightly as you can, and wrap in plastic. Chill for at least an hour, but even overnight works well.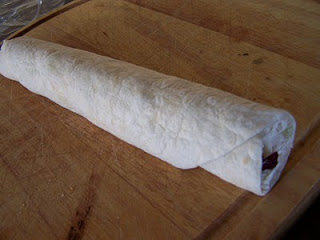 Once chilled, slice with a serrated knife. Ideally, slice them just before serving so the tortilla won't dry out.