This is less of a recipe, and more of an adorable idea. I made these cake cones for my son's 3rd birthday party, and the kids loved them. I saw the idea from a local cake maker (Thank you '
Cake Me Smile
!'), but the party didn't have the budget for me to buy them for all of our guests. I think my DIY's turned out pretty cute though!
First, make
Bakerella
's
cake balls
. Just make the centres and don't coat the yet. (Mine are chocolate cake and chocolate icing. Mmmmm...)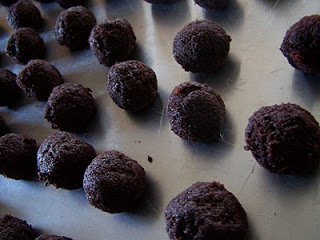 Place your cake balls on a cookie sheet, and top with a mini ice cream cone. Chill in the fridge (or freezer, if you are impatient like me) until firm.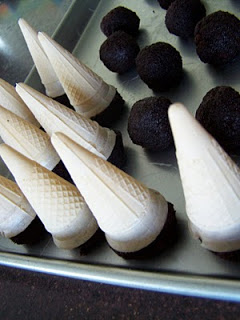 Once the cake balls are firm, melt chocolate (in this case, white chocolate) in a double-boiler. Dip each cake ball/cone in the melted chocolate and top with sprinkles.
An easy way for them to dry and harden standing up was to poke them into the bottom of egg cartons. Isn't it cute how the chocolate drips down the cone a little like melting ice cream?
Love 'em! Can't wait for another reason to make them ;)