My parents have lived in the same 100 year old house since I was 2 years old. It has a big country kitchen, which is where everyone gathers. If someone isn't in the kitchen, they are generally in bed or not at home. They have a recliner next to the woodstove that is the most cozy and comfortable place to read a book, have a cup of coffee, nurse a baby, or enjoy some good conversation. I can't find a picture of me in that comfortable place, but here's one of my husband, Josh, and his furry brother-in-law, Duncan.
(More on comfort week
here
)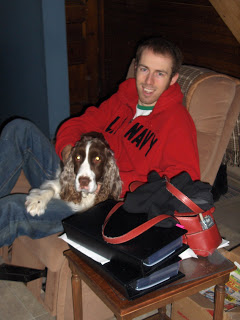 An extra little story to go along with this post, because I think it is sweet...
My parents were high school sweethearts. Dad played on the football team at the Catholic boys' school and Mom was a cheerleader at the Catholic girls' school. They met on the bus going to an away-game. (No joke...how sitcom-like is that?) Dad's family lived less than 5 minutes away from the house my parents live in now. He would drive Mom past their now-home, which he would call the castle, and say that they would live there one day.
Once they got married and had their first three kids, they lived in the same general area. One day, Mom was pushing me in the stroller past 'the castle' and saw a moving truck in the yard. Being the personable woman that she is, she knocked on the door to ask if they were selling the house. She met the home's owner, an elderly woman named Minnie. Minnie wasn't moving, just selling her piano as she had retired from teaching piano lessons. After she invited Mom in for tea and they chatted about how Mom and Dad were always interested in her home, she told Mom that she was too old to be taking care of it all alone and would like to sell it to our family.
Minnie was widowed without children. After we moved into the house, we continued to look after Minnie. She was like a surrogate grandmother. We moved her into an apartment in the neighbourhood where we could visit and help her, and then later into a nursing home. She would spend Christmas and Easter with us, she'd come see us perform in the music festival, and we'd always go visit her in our Halloween costumes. She passed away when I was in middle school. My parents still have some antiques that Minnie left for them when she moved, which help to give this old house its personality
My friend, Kim, calls the house Bella-bella-coola, the scary house from the movie "Pippy Longstockings". No matter where I live, I'll always call it home.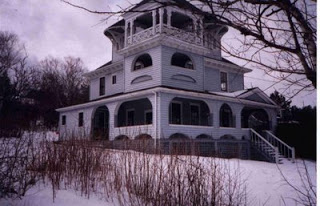 *Update*
Lindsay commented on this post, so I'm following her directions and editing to include this photo of me and my siblings on my wedding day on our front steps.