Lindsay and Paul are visiting from Calgary and were at our house for dinner on Sunday night. I wanted to make a few sides to suit everyone. Here's what we enjoyed!
Grilled Sweet Potato
Original recipe found
here
, though I used curry and cinnamon as the rub and I garnished with cilantro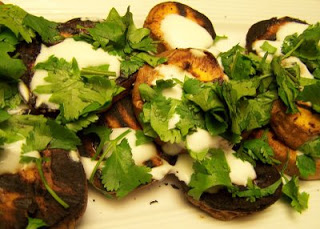 Planked Potato Rings
Recipe found here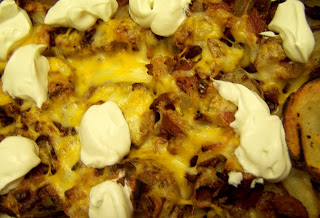 Summer Spinach Salad
I'm not sure where this dressing originated from, but I got it from my Mom.

1/3 C Oil
1/3 C Vinegar
2/3 C Sugar
1/4 C Ketchup
1 Onion, diced fine

Combine in a mason jar and shake to dissolve all sugar. Refrigerate several hour (ideally overnight) before serving. Great tossed with spinach, egg, bacon, bean sprouts, water chestnuts, strawberries, or whatever else you have on hand. Dressing keeps well in fridge for one week.