My mom and I made a ton of cloth napkins for the party, since we wanted them to match and didn't have enough of any set for the crowd we invited. We had enough material to make a table runner too, as seen in the picture.

I wish I knew how to tag a picture so you could click on the dish and get the recipe, but alas...I am not that smart. We had lemon-blueberry scones, orange-cranberry scones, oatmeal-raisin-carrot cookies, hummus and pita chips, mango salsa and pita chips, a huge veggie tray with a curry dip and a pesto dip,and a fruit tray. (I will post the recipes soon, when I have a moment...leave a comment if you want a recipe sooner!) We made sure to have lots of herbal tea, coffee, and iced tea for the crowd too.

I borrowed this idea from the article in Todays Parent instead of the usual place cards I would use to identify the food.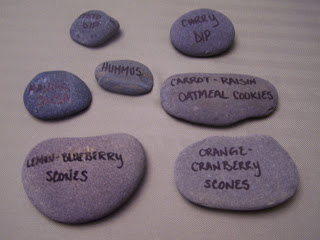 I cleared off the shelves in our dining room, leaving only a dark platter and some dark candles. I added some tent cards I made with facts about cloth diapering that prompted lots of conversation! I also did this Martha Stewart craft with tin cans from our recycling bin.


I had a couple "self-serve" games set up in the living room for people to play at their leisure. One was a trivia game, where true or false questions were posted, you put your name on a piece of paper in a jar marked with the answer you guessed, and winners were drawn from the right jar. Another game had a list of environmentally-friendly habits, and instructions to give yourself a point for each one that applied to you. There was a tally sheet there to mark your name and score, and the highest score won! We gave out prizes of compact fluorescent light bulbs, green cleaning supplies, and potted plants. We also got lots of booklets and brochures about energy conservation from our local power commission and had them on the coffee tables. More great conversation starters!
I encourage anyone who is planning a shower to go green! Gifts for any kind of party can be wrapped in reusable materials (towels, blankets, etc) or recyclable materials (brown paper, raffia, etc). There are oodles of resources online, or Email me for some ideas! :)