My friend Melissa is a gem. A real gem. She's probably the funniest person I know, she is stunningly beautiful, a humanitarian, and a lawyer. The best thing about her is that she has no idea how amazing she is. When her mom (also amazing...the apple doesn't fall far from the tree...) asked me to help her plan a surprise dinner party for Melissa's birthday, I was all over it! Trudy, Melissa's mom, was going to cook a Carribean feast for the friends I had invited. I volunteered to make the cake.
Hey...I bake all the time, right?
If this culinary mishap happened on someone else's birthday, I would have stopped at the bakery on the way to the party to buy something pretty. But knowing Melissa, I knew she'd have a hearty laugh at this toppling cake.
I layered a 9' chocolate cake with a 9' peanut butter cake as the lower tier, and 6' versions of the same cakes as the upper tier. The peanut butter cake was quite dense, however, and I don't think the chocolate cake could stand the weight. Slow-motion leaning and toppling began. I did a crumb coat of peanut butter buttercream that looked horrendous, so I decided to do a poured chocolate fondant to try to pretty it up. Bad move. It ended up looking like a science fair volcano. Pictures speak a thousand words:
Here I am, leaning with my cake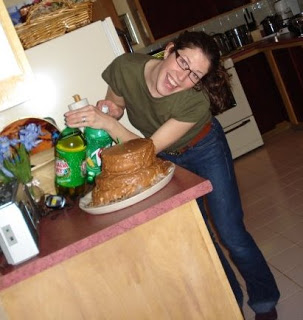 The sad, sad cake with the off-centre loner candle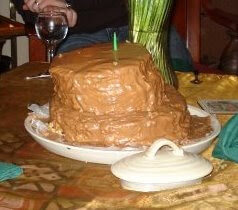 A few minutes after being cut, the top tier slowly slid off onto the coffee table. Melissa actually interrupted conversation, yelling: "There it goes!!"