My grandmother is at a stage that she can't cook for herself anymore, and she gave me some cookbooks and lots of recipe cards. It was so much fun to go through them all...and now I can use the exact same card to make
shortbreads
at Christmas that she has for the last umpteen years. Call me sappy, but I think there is some magic in that.
This is a recipe that I didn't recognize and didn't recall ever having. Written at the top of the page was "Butterscotch Squares.
Mytrtle.
Good." Freddy and Myrtle were a couple of Nan and
Gramp's
oldest friends...and when venturing to try an old recipe, one from someone named Myrtle fits the bill perfectly.
1/2 C butter
2 C brown sugar
2 eggs
1 tsp vanilla
1 1/2 C flour
2 tsp baking powder
1/2 tsp salt
Nuts
Combine the butter and sugar in a saucepan slowly over low-medium heat, stirring while the butter melts and the mixture is blended. Remove from heat. Add eggs one at a time mixing well. Add vanilla. Add flour, baking powder, and salt.
Myrtle's recipe just said to add nuts at this stage, not a specific
quantity
. I did a couple more "add ins" instead:
1/4 C chocolate chips
1/4 C butterscotch chips
1/4 C
Skor
bits
Spread into a greased 9 X 13 pan. Bake at 350' for 25-30 minutes.
Myrtle suggesting icing them with caramel icing, but I thought they were great just as they were!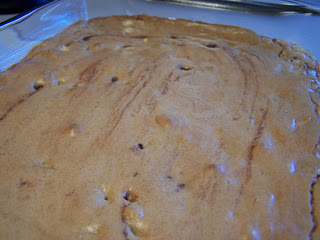 The original recipe I found in the box...