Okay, so this is actually an appetizer that I usually reserve for hockey games, football games, and other times when Josh
asks
me to 'make something' for he and some guys. But something made me think of them the other day, and I just couldn't get them out of my head until I had them.
They are a lot like buffalo wings, only with white meat, no bone, and super easy to multiply.
Chicken Breasts
Bread Crumbs
Butter
Franks Red Hot Sauce
Cut the chicken breasts into bite sized pieces. Coat in bread crumbs, place in single layer on a baking sheet, and cook at 350' for approximately 15 minutes. Melt butter in a sauce pan, and add Franks Red Hot Sauce. The more butter you add, the milder the sauce will be. The more Franks you add, the hotter the sauce will be. There is no real recipe for success since it is all a matter of preference. I just start playing and tasting it with my pinkie! Once chicken pieces are cooked, toss with sauce, return to single layer on baking sheet for an additional 10-15 minutes. Serve with toothpicks and sour cream or blue cheese dressing to dip.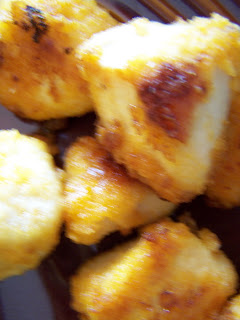 I think there was steam coming from them when I tried to take the picture, so it's a little lack luster...