For our first anniversary, we went on an afternoon hike and a picnic. This year, I get winded going up a flight of stairs. Hike? Out of the question. Instead, we opted to eat a variety of yummy appies at home.
Lemon-Garlic Scallops
1 Tblsp vinegar
2 Tblsp lemon juice
2 Tblsp olive oil
2 cloves garlic, minced
1 tsp oregano
Scallops
Combine all ingredients to make marinade for scallops. Marinade scallops in a covered dish in the fridge for several hours. Over medium heat, cook scallops until done to your taste. I like to flip them a few times, but leave them in the pan long enough to allow the scallop to brown slightly.
Stuffed Mushrooms
12 mushrooms
1/4 cup red onion, finely diced
1/3 Lbs bacon, cooked and crumbled
1/4 bread crumbs
2 cloves of garlic, minced
Drizzle of olive oil
2 Tblsp parmasean cheese, grated
1/3 Cup mozzarella cheese, grated
Remove stems from mushrooms. Reserve stems. Place caps upside-down in a lightly greased baking dish. Chop stems finely and mix with red onion, garlic, and olive oil in a pan over medium heat. Once softened, add the bread crumbs, bacon, and parmasean. Stuff each mushroom cap with this mixture, and sprinkle with mozzarella. Place in a 350' over for approximately 15 minutes.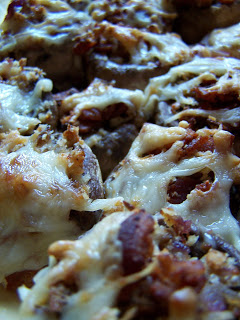 Bocconcini Bruschetta
1 tomato, chopped
1/4 Cup red onion, chopped
Fresh basil, chopped fine
A drizzle of olive oil
A splash of red wine vingear
10 cocktail bocconcini, cut into quarters
Fresh parmasean
Baguette
Combine everything except the parmasean and baguette and place in a sealed container in the fridge. Leave for several hours to allow the flavours to combine. Slice the baguette, brush with a little olive oil, and put under the broiler just to lightly toast. Remove from oven and lower heat to 350'. Top baguette slices with tomato mixture, sprinkle with parmasean, and put into oven for 5-ish minutes to warm mixture and slightly melt cheeses.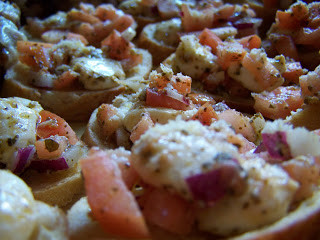 ...And for dessert?
Well, we forgot to eat the top of our wedding cake last year. Oops! I can't imagine that it's
bad
luck
to eat it a year late, so we went for it. For the record, I wouldn't recommend 2-year old cake. First, it wasn't very visually appealing: 2 years in the deep freeze will do that to you. Second, it was really dry. I guess 2 years in the deep freeze will do that to you too. Third, we were hoping that old carrot cake might induce labour...thought I could just pretend that was an old wives tale or something. Not the case...baby still in tow!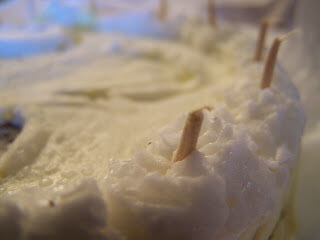 I tried to make the slice a little more appealing with some flower petals...Made it a little more presentable, but we both still knew what was under there!