So I had a few over-ripe bananas to deal with this morning...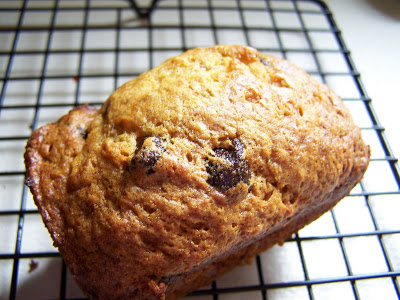 I've got a couple of really healthy muffin recipes that are staples for us. This isn't one of them, but it's a nice treat anyway.
1/2 Cup margarine or butter
1 1/4 Cup white sugar
1 egg
4 ripe bananas
1 tsp vanilla extract
2 1/1 Cups flour
1/4 tsp salt
1 tsp baking powder
1 tsp baking soda
1 Cup chocolate chips
Blend first 5 ingredients. Add the dry ingredients and mix just until flour disappears. Stir in chocolate chips. Spoon into 15-18 paper-lined or greased muffin cups. Bake at 350' for 20-25 minutes, and cool on wire racks.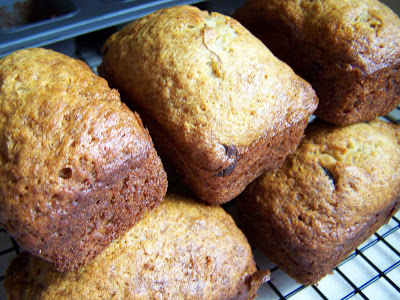 And Josh thinks that regular muffins are just not enough, so he likes these "little loaves" as we call them. They are pretty much like 1 1/2 muffins, but the shape is so much cuter.