I combined a few things last night to make our BBQ a little more Asian. I just threw some things together for both of these recipes, so they don't really have names yet...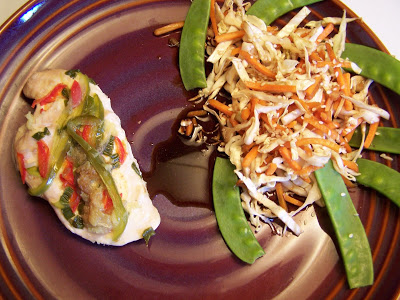 3 Chicken breasts
1 Thai chili pepper, sliced into thin strips
Several thin slices of green pepper
Several thin sliced of red onion
2 cloves of garlic, minced
1 Tblsp ginger, minced
1 tsp coarse salt
Place each chicken breast on a piece of lightly greased tin foil. Top with all of the other ingredients. (In future, I would put the garlic and ginger on first, so they could be spread across the breast more easily - then topped with with other veggies). Wrap up tin foil into small bundles around the seasoned chicken. Place on grill from approx 15-20 minutes or until chicken tests done.
2 Cups cabbage, chopped
1 Cup carrots, julienned
2 Tblsp rice vinegar
1 Tblsp soy sauce
1 tsp garlic powder
1 tsp white sugar
Fresh snow peas
Sesame seeds
Combine cabbage and carrots in a bowl. Combine all other ingredients (except the snow peas) in another small bowl or cup and mix thouroughly. Pour sauce over cabbage and carrots and stir to combine. Garnish with fresh snow peas and sesame seeds.