I like ingredients that are versatile. I don't like a one-trick pony, and I hate buying something that I will only use in one particular recipe. Where is the fun in that? It's like buying one of those craft kits that has everything you need to make one particular craft, and you can't deviate because they only gave you exactly 3 pipe cleaners and 5-inches of yarn. I know, that's a little off-track...but in my mind, it's the same thing.
I came across
this recipe
(from the
Manitoba Canola Growers
) for a spice mix, which had all kinds of ideas of how to tailor the same mix to work for different dishes.
We have enjoyed this rub on several things, which are pictured and explained following the recipe.
1/4 C paprika
2 Tblsp dry mustard
2 Tblsp salt
2 Tblsp sugar
2 Tblsp granulated garlic
1 Tblsp pepper
2 tsp onion powder
Combine all ingredients and store in a cool, dry place. I find a small glass jar ideal for this.
Pork Back Ribs
Rub ribs with oil and spice mix to coat.
Place in a baking dish and cover with foil.
Cook at 375` for 45 minutes.
Remove foil and place under broiler for approximately 10-15 minutes, flipping once.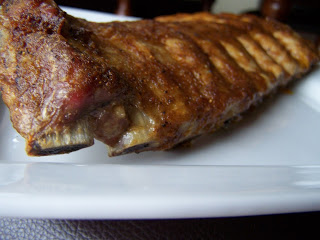 Cauliflower Steak
Cut slices of cauliflower approximately 1/2-inch thick.
Rub with oil and spice mix.
Over medium heat, drizzle a little oil in a pan.
Add seasoned cauliflower slices. Cover pan.
Cook 5 minutes until cauliflower is golden brown.
Flip, cover, and cook and additional 10 minutes.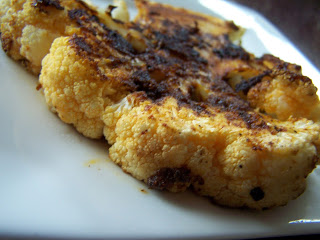 Chicken Legs
Rub a little oil on each piece of chicken.
Sprinkle with spice mix and rub to coat.
Place on a foil-lined baking sheet at bake at 350` for 40 minutes, or until skin is crispy.