It all started with this tweet: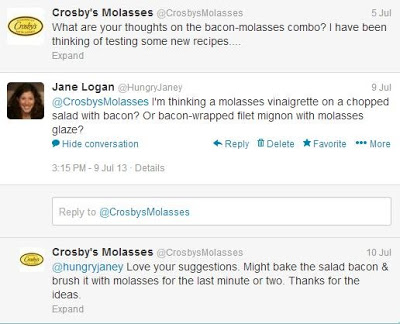 I hadn't thought about putting molasses and bacon together until I saw Crosby's tweet. Once I wrote them a quick reply with my initial ideas, I knew I had to jump on the bandwagon.
The secret to a great kale salad is a little extra time and a little extra love. Or, to put it simply, massage the dressing into the kale about 30 minutes before assembling the rest of the salad. It gives the kale a chance to soften up, and makes for a great salad!
This salad was UNREAL. We had it with
teriyaki salmon
, and Josh acted like he died and went to heaven. You've go to try it!
1 Tblsp olive oil
1 Tblsp lemon juice
1 Tblsp white wine vinegar (or an additional Tblsp lemon juice if you don't have this)
-----
10-12 ribsof kale, leaves removed and torn into bite-sized pieces
4 pieces of bacon, cooked and chopped
1/4 C walnuts
4-5 mini peppers (or about 1/2 of a regular pepper), thinly sliced
Generous pinch of coarse salt (optional)
Place olive oil, lemon juice, white wine vinegar, and molasses in a large bowl. Whisk to combine. Remove kale leaves from rib, and tear into bite-sized pieces. Place on top of dressing in bowl. With your hands, massage the dressing into the kale. Allow to sit in the refrigerator for for 20-30 minutes. Add bacon, walnuts, and peppers. Sprinkle with coarse salt and toss to combine.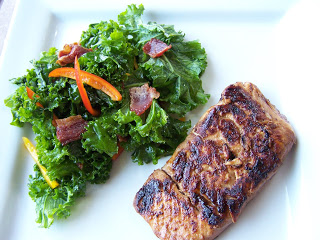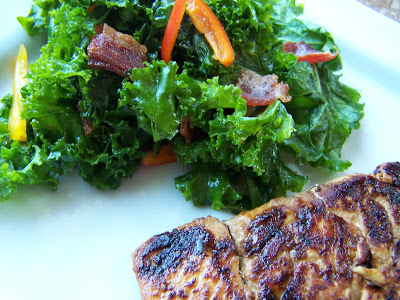 I admit that the photos above were staged. We took this meal on a picnic for our anniversary last night, so I actually enjoyed eating this kale salad as pictured below. Can't beat it!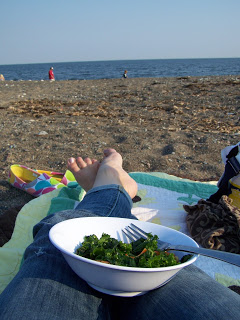 *This is not a sponsored post. I just love molasses!*