It's $40 Dinner Party Time again! I think everyone is really going to enjoy the new menu that Chef Kim Steele and I have put together for you. Each dish is approachable and semi-familiar, but with some great twists in flavour combinations. As always, we are providing you with the menu, recipes, photos, and grocery lists to host your own $40 3-course dinner party for 6 people.
3 courses, 6 people, 40 dollars, no kidding.
Ceci Bruschetta
("Ceci" is Italian for "chickpea")
1 baguette
1 can chickpeas, drained and rinsed
1 Tblsp olive oil
1 Tblsp diced onion (or 1 shallot, if you have it)
2 cloves garlic, minced
1 tsp sugar
1 Tblsp balsamic vinegar (or apple cider vinegar, if you have it)
1 Tblsp basil, chopped
1 Tblsp flat leaf parsley, chopped
12 black olives
Slice baguette in to 1/2-inch thick slices. Brush with olive oil, and place under broiler until toasted. Flip and toast the reverse side.
In a very hot pan, toss chickpeas with olive oil, diced onion, and minced garlic. As Chef Kim described; "Let it snap, crackle, and pop." Add sugar, vinegar, basil, parsley, and black olives. Stir to combine and cook for about 3 minutes. Mash some of the chickpeas with the back of a spoon to add additional texture.
Top toasted baguette with chickpea mixture. Garnish with basil, if desired.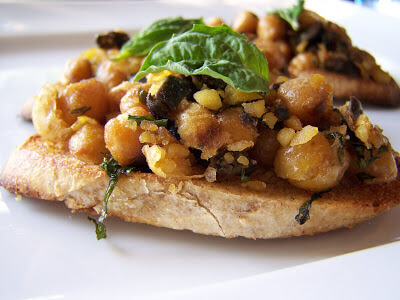 Blistered Tomato & Basil Panzanella Salad
1 baguette
1 pint grape tomatoes
1 zucchini
1/4 C (+/-) basil, chopped (or remainder of the bunch)
15 (+/-) Olives (or the remainder of the can)
1/4 to 1/3 C Olive Oil
1/4 to 1/3 C Balsamic vinegar
Cube baguette. Place in a single layer on a baking sheet. Toast at 350` until crispy, tossing once or twice. Place toasted bread in a large bowl.
In a very hot pan, add grape tomatoes with a little olive oil and sprinkle with salt. Toss in the pan for several minutes, until the skins are discoloured and start to split. Place hot tomatoes on top of bread in the bowl.
In the same hot pan, toss zucchini with a little olive oil and sprinkle with salt. Cool for 3-4 minutes until slightly softened. Place zucchini on top of tomatoes in the bowl.
Add basil and olives to bowl. Toss all ingredients with olive oil and balsamic vinegar. Allow to sit 1 hour at room temperature to allow bread to soak up olive oil and flavours. Garnish with parsley as desired.
If you would prefer to serve the salad warm, save one cooked item (ie the tomatoes) to prepare just before serving. Toss hot tomatoes with salad to warm the remaining ingredients.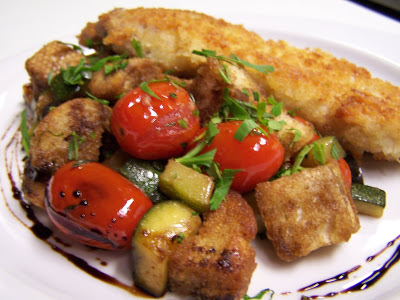 Parmesan & Roasted Garlic Crusted Pork
6 pork chops
1 head of roasted garlic
3/4 C Parmesan cheese
1 egg, lightly beaten
3/4 C dried breadcrumbs
Mash roasted garlic with fork. Rub on both sides of pork chops. Pat Parmesan cheese on pork chops to coat each side, sticking to the roasted garlic. Dredge pork chop in egg, and coat in dried bread crumbs. Cook pork chops in a pan with a little olive oil over medium heat (if breadcrumbs sprinkled in the olive oil fizzle, the pan is hot enough to add the meat). Cook until both sides are browned, and the meat has an internal temperature of 150-160`. (If you have purchased a thicker cut of meat and the outside is browning and the internal temperature is still too low, place you pan in a 350` oven until the pork is cooked through.)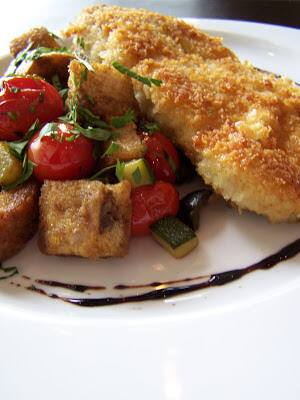 Rhubarb Curd & Almond Shortbread Bars
Adapted from
Lara Ferroni
This recipe has an extra step. First you make a rhubarb puree, then you turn the puree into a rhubarb curd. It's not hard, it doesn't take much time, and it's SO worth it for the results!
4-5 C rhubarb
1/4-1/3 C water
-----
2 C rhubarb puree (as prepared)
3/4 C sugar
8 egg yolks
1/8 tsp salt
4 Tblsp butter
---
1/2 C butter
3/4 C flour
1/3 C ground almonds
1/8 tsp salt
---
Whipped cream, if desired for serving
Place rhubarb in a medium pot, and add water. Cook over low to medium heat until the rhubarb softens completely. Puree in a food processor and strain.
Combine 2 cups of rhubarb puree, sugar, egg yolks, and salt in a small pot. Slowly bring to a boil, stirring constantly. Remove from heat, and whisk in butter to melt while the mixture is hot. Set aside.
Combine butter, flour, ground almonds, and salt. Mix on low until it resembles course crumbs, then increase speed of mixer and beat until it forms a soft dough. Press into greased 8-inch square pan. Prick all over with a fork. (Kim told me this was called "docking." You learn something new everyday!)
Bake crust at 350` for about 20 minutes until it is lightly golden.
Pour the curd on to the cooked crust. Smooth top with a knife or spatula. Chill until set (about 6-8 hours) before serving. Serve with whipped cream, if desired. (And we added some raspberries to our plates for some more beautiful colour)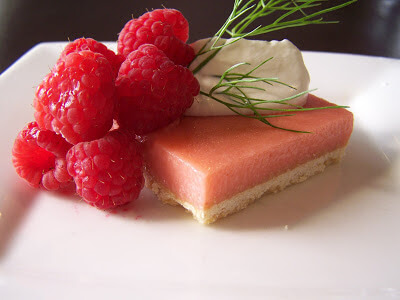 Grocery List
1 bunch flat leaf parsley
2 heads garlic
1 onion
1 pint grape tomatoes
1 zucchini
1 bunch basil
1 lb. rhubarb
2 baguettes
Dried breadcrumbs
1 can chickpeas
1 can black olives
Ground almonds
Parmesan cheese
6 Porkchops
9 Eggs
Pantry Needs
Olive Oil
Balsamic Vinegar
Flour
Sugar
Butter
Salt
I am linking this post with #thisisbliss because I love cooking and entertaining, and a delicious budget friendly meal is bliss for me!