I share lots of healthy recipes, right? Well, this isn't one of them. This french toast is sticky caramel goodness that is reserved only for special occasions, and occasionally Sunday morning surprises. Simon calls it his French Toast and goes absolutely bananas for it. (Speaking of bananas, I usually serve bananas on the plate with it. Bananas and caramel just make sense together...and we have to get something healthy on that plate, right?) This dish is a great addition to a brunch because you literally just put it in the oven in the morning, leaving your hands (and stove top) free for other things.
1 baguette, sliced into 1-inch slices
Combine melted butter, brown sugar, and corn syrup in the bottom of a 9X13 baking dish. Top with slices of french bread. Mix remaining ingredients until well combined. Pour evenly over french bread. Allow to chill in the refrigerator overnight. In the morning, bake at 350' for 30 minutes. Slice around each piece of bread for ease of serving.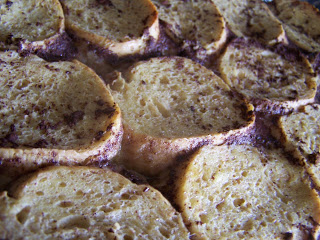 Serve with fruit to feel like you can call this breakfast, and not dessert.