I saw
this
delicious-looking salad on
Greens and Chocolate
. I knew this hearty and filling combination would be a hit for us, but he idea of a mayonnaise/yogurt dressing just didn't work for me...I wanted something with more punch. Then I remembered the
avocado tomatillo dressing
that was still in the fridge, and it paired perfectly with this colourful salad! With a variety of textures and fresh flavours, this salad is your whole meal in one bowl. I'll definitely be making this salad again this summer.
1 red pepper, chopped
1 green pepper, chopped
1 head of lettuce, shredded (I used Boston lettuce, but iceberg or romaine would both be great too)
1 avocado, chopped
1 grilled chicken breast, chopped
1 1/2 C black beans
1 1/2 C corn, toasted as indicated
Salt & pepper & cumin to taste
1/2 C
Avocado & Tomatillo Dressing
In a very hot pan, add corn (removed from cob, frozen, or drained/rinsed from can) with a little salt, pepper, and cumin. Toss in pan for about 2 minutes until yellow brightens and some darkness appears from toasting.
Combine all ingredients and toss with dressing before serving.
Grill an extra chicken breast the day before and used canned/drained/rinsed beans and corn for a very quick weeknight meal.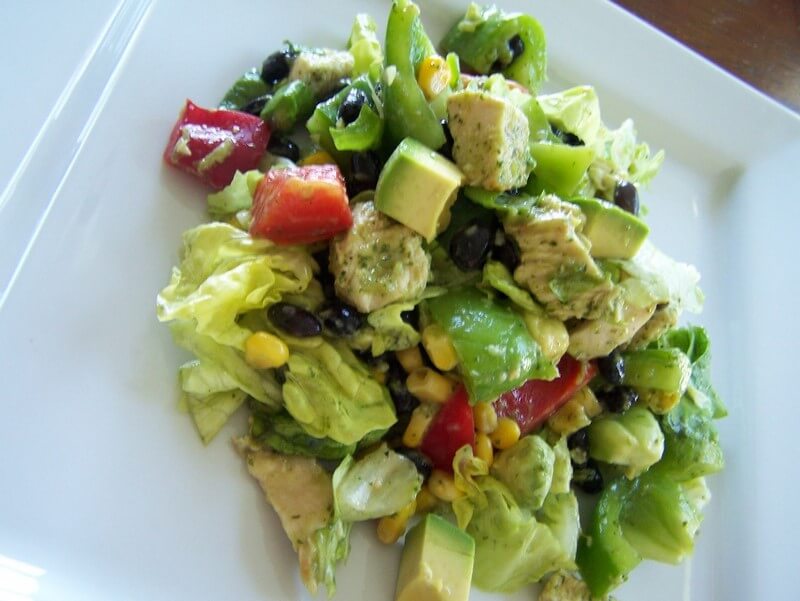 See all the yummy stuff in there? So so good, and good for you!