I made this cake for Josh's birthday last year, and we both talked about the frosting at random moments since then. It is amazing. It's all the awesomeness of a campfire marshmallow on a plate and paired with rich chocolate cake. How could that possibly go wrong? After over a year of talking about this cake, I made it again for father's day and it lived up to our memories.
Sour Cream Chocolate Cake
2 C flour
2 tsp baking soda
1/2 tsp salt
1/2 C butter, at room temperature
1 C white sugar
1 C brown sugar
3 eggs
1 C sour cream
1 Tblsp vanilla
4 oz dark chocolate, melted
1 C strong brewed coffee
Combine the flour, baking soda and salt. In a separate bowl, cream butter, white sugar, and brown sugar until light and fluffy. Beat in the eggs on low, one at a time. Add vanilla extract and sour cream and mix to combine. Add melted chocolate and coffee, and mix at a medium speed until well combined. Add flour mixture to chocolate mixture in 2-3 batches, beating on low and scraping down the sides of the bowl as needed.
Pour into two greased 8 or 9-inch round cake pans.
Bake at 350` for about 30 minutes, or until it tests done. Allow to cool completely on a wire rack before frosting.
Roasted Marshmallow Icing
16 large marshmallows
1 C icing sugar
1 C butter, at room temperature
1/2 tsp vanilla
1 jar of Fluff
Graham crackers, for filling and topping
Hershey Bar (or other chocolate), for topping
Place marshmallows on a parchment or silpat-lined baking sheet. With oven rack at the lowest setting, place marshmallows under the broiler until lightly toasted. Turn marshmallows over, and toast on reverse side.
Cream butter. Combine with icing sugar on a low speed until well-blended. Add vanilla and beat on high for 3 minutes. (Seriously...3 whole minutes. Don't under-beat it. I forgot this step once and didn't get the same results). Add fluff and toasted marshmallows and beat on low for 1 minute.
To assemble cake, place one layer of cake on serving dish. Spread with a layer of roasted marshmallow icing and top with coarsely crushed graham crackers. Top with second layer of cake, and cover with icing. Top with graham crackers, graham crumbs, and chocolate as desired.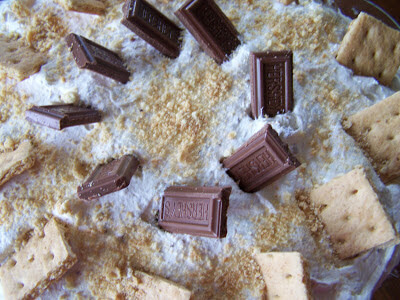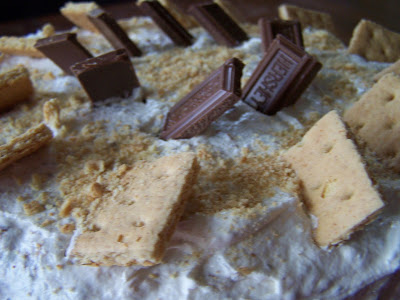 The icing has these delicious little bits of roasted marshmallow, as you can see on the sides of the cake in the picture below.