1/3 C + 1 Tblsp shortening
2 Tblsp cold water
Put shortening, flour, and salt in to food processor. Pulse until mixture is crumbly. Turn food processor on low and pour all the water in at once while it is running. Stop the food processor when the dough leaves the sides of the bowl, but before the dough forms a ball. Roll out on a floured surface to a circle that is 1-2 inches larger than your inverted pie plate. Press into pie plate, fold edges under, and flute.
Filling
3 C chopped rhubarb
1 C sugar
2 Tblsp flour
1/8 tsp salt
3 egg yolks (save the whites for the meringue)
1 C whipping cream
Put rhubarb into pie crust. Whisk remaining ingredients until combined, and pour over rhubarb. Bake at 350` for 60 minutes, or until a knife inserted in the center comes out clean.
Meringue
3 egg whites
4 Tblsp sugar
Beat egg whites until frothy. Gradually add the sugar, and whip until stiff peaks form. Spread meringue over rhubarb filling, working from the center and spreading outward, making sure to get meringue all the way to the crust. Bake at 350` for 10 minutes, or until meringue is golden brown.
Baked pie, before meringue was added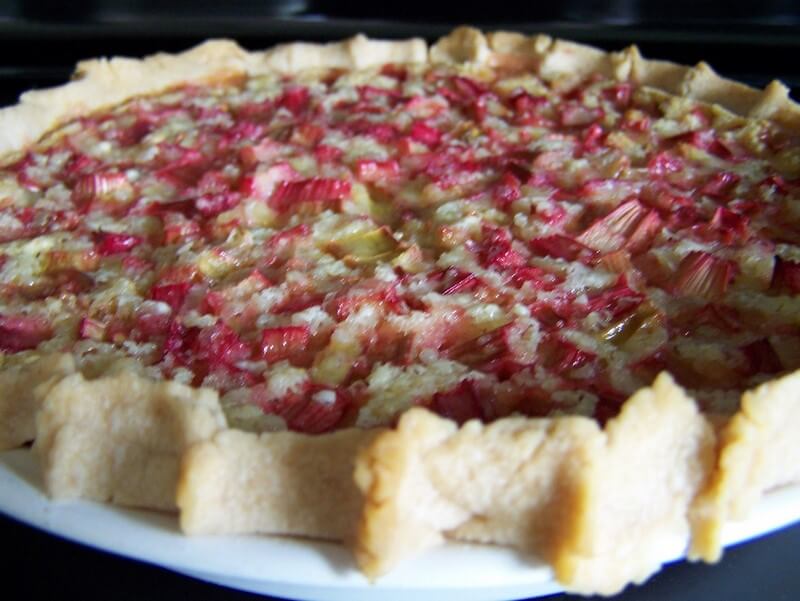 Completed pie, with meringue
And you know how I feel about all the little curls and peaks in meringue. I can't resist taking some pictures of them. They are like snowflakes - no two are identical!