Lemons were on sale and I had a fridge full of eggs. Something made me think about lemon meringue pie, a favourite of my husband that I had never made. A little googling led me to
this recipe
, which looked simple and authentic. And since lemon meringue pie always reminds me of my Nan, it seemed right to go with one titled "
Grandma's Lemon Meringue Pie
."
This pie was so much easier to make than I anticipated! It only took a few minutes to put together, and presents so nicely. A 1-crust pie is so much more forgiving than a 2-crust pie, so if you are new to baking and have been hesitant to try making your own pie, this would be a great place to start.
1 C sugar
2 Tblsp flour
3 Tblsp cornstarch
1/4 tsp salt
1 1/2 C water
2 lemons, zested and juiced
2 Tblsp butter
---
4 eggs, separated
6 Tblsp white sugar
Whisk sugar, flour, cornstarch, and salt together in a medium saucepan. Stir in water, lemon zest, and lemon juice. Cook over medium heat and stir frequently until it reaches a bowl. Stir in butter until melted. Beat egg yolks in a small bowl. Remove 1/2 C of lemon mixture and stir in to yolks to combine. Once combined, stir egg yolk mixture back in to pot of lemon mixture. Bring to a boil, stirring frequently, until thick. Remove from heat and pour in to baked pie crust.
To make meringue, beat egg whites until frothy. Gradually add the sugar, and whip until stiff peaks form. Spread meringue over lemon filling, working from the center and spreading outward, making sure to get meringue all the way to the crust (so no lemon filling should be visible). Bake at 350` for 10 minutes, or until meringue is golden brown.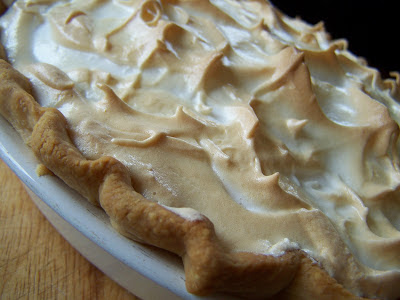 And does anyone else take delight in the little curly tips of meringue? I get the same excitement over whipped cream, and over the sweet little curl on the top of a soft serve cone from Dairy Queen.