I saved
this recipe
a few weeks ago, and was excited to try it this weekend. It did not disappoint! I will definitely be making grilled vegetable pizza again, and look forward to trying hummus as a sauce on a pizza with chicken and cilantro too. Mmmmm!
1 small zucchini
1 red pepper
1 portobello mushroom cap
1/2 small red onion
Slice the zucchini lengthwise, seed the red pepper, and slice a couple of 1/2 inch slices of onion. Toss all vegetables with some olive oil, salt, and pepper. Cook on the grill until tender - about 5 minutes. Cool and slice.
Prepare the crust, and stretch on to a well-floured cutting board. Spread a layer of hummus on to the entire crust. Top with grilled vegetables. Cook according to
my fave grilled pizza instructions
, or put it on a baking sheet in a 500` oven for about 10-12 minutes.
I was forgot to take a picture of the finished pizza, but the roasted veggies look gorgeous on their own.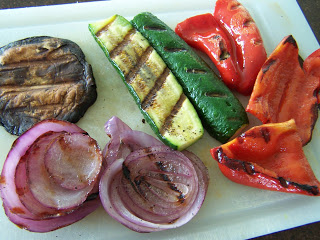 This is the photo from
Budget Bytes
, where I originally found this recipe. Doesn't
Beth
take great photos?