I spotted
this recipe
a couple of months ago, and saved it for a day I'd be having my vegan friend Sarah in for tea. She and her husband came for dinner this weekend, so I broke out this recipe for dessert. I had to alter the original recipe a little because I was short on chocolate, but the addition of cranberries was delicious. The kids and the adults all had seconds, regardless of whether or not they contained eggs and butter!
2 C rolled oats
1 1/2 C flour
2 tsp baking powder
1/4 tsp baking soda
3/4 tsp salt
3/4 tsp cinnamon
1/2 C vegetable oil
3/4 C brown sugar, firmly packed
1/2 C white sugar
2 very ripe bananas
2 tsp vanilla
3 oz dark chocolate, coarsely chopped
1/2 C dried cranberries, coarsely chopped
Combine rolled oats, flour, baking powder, baking soda, salt and cinnamon. (The dry mix is the job of my little assistants seen below)
In another bowl, beat oil, sugars, bananas, and vanilla until well combined. Add flour mixture and mix until just blended. Fold in chopped chocolate and cranberries.
Drop by spoonfuls onto baking sheet, leaving about 2 inches between them. Bake for 12-15 minutes, until cookies are golden. Allow to rest on the baking sheet for a few minutes before moving to a cooling rack.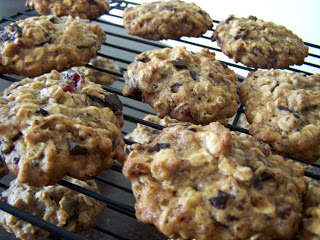 My "dry mixers" . Cracking eggs is also a favourite of the two-year old in the chef's hat, and he was a little peeved that this recipe didn't need any.