I picked up our first CSA
produce pack
of the season yesterday! Unfortunately, I didn't know it was starting this week until
after
I planned our weekly menu and got groceries. D'oh! New challenge - change our planned meals to use the fresh produce we received, and save anything in the freezer and pantry for another week.
I planned on making
veggie enchiladas
last night. (Have you tried that recipe yet? So so good. It's become a regular meal in our house, and I think in my friend Nicole's house too) Inspired by
this recipe
, I decided to change my
veggie enchiladas
a little to use some items we received in the produce pack, and a couple other things I had on hand. (I couldn't pass up $4 for 5lbs of sweet potatoes when I saw them the other day)
6 ribs of kale, leaves removed and coarsely chopped
1 sweet potato, peeled and chopped into 1/2 pieces
1 can white kidney beans, drained and rinsed
2 giant salad onions (and if you don't have
Dave
's onions, substitute 5-6 regular green onions), sliced and separated
1 C grated cheese (I had mozzarella last night, but cheddar would be great)
1/2 tsp garlic
1 tsp cumin
10 flour tortillas
1 C salsa, slightly watered down if chunky
Place the sweet potato in a pot of water, and bring to a boil. Once boiling, put the chopped kale leaves in a steamer basket on top of the pot. Cook for about 5 minutes, until the kale has softened and turned bright green and the sweet potatoes are tender. Drain. Combine sweet potato, kale, beans, and whites of the onion in a large bowl. Stir, mashing the potatoes and beans a little as you go. Stir in cheese, garlic, and cumin. Soften tortillas by heating for about 30 second in the microwave. Spoon about 1/3 C of vegetable mixture on to each tortilla, fold both right and left sides toward the centre, and roll up. Place seam side down on a lightly greased 9X13 pan. Once all tortillas are filled and rolled, top evenly with watered-down salsa. Bake at 400` for about 20 minutes. Top with greens of the onions and serve with sour cream.
(Instead of using salsa, you could also make the sauce that is listed in the
veggie enchilada
recipe - I just didn't have the tomato paste on hand, so I improvised.)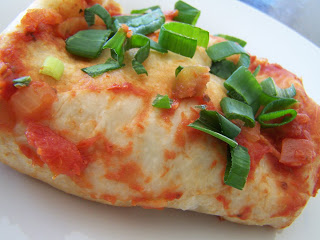 Isn't the colourful filling pretty? Similar colour scheme to my family room, but that's a conversation for another blog.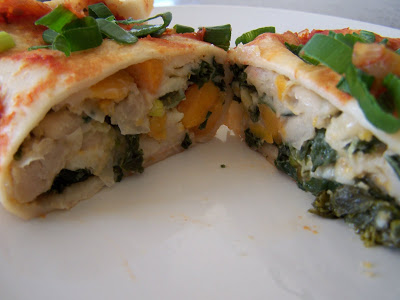 These are delicious, and a great use of kale. Know what else is a yummy use of kale?
Zuppa Toscana
!