I used my Nan's peanut butter cookie recipe to make these cookies with soy nut butter, which is what we have on hand since there are peanut allergies in our house. They were a hit with the kids (a bigger hit than the soy nut butter itself actually), and my brother thought they were "great dunkers" with a cup of coffee. They are a crunchy cookie, and I'm normally a chewy cookie kind of girl, but they were a nice change.
1 C shortening
1 C soy nut butter
1 C brown sugar
1 C white sugar
2 eggs
1 tsp vanilla
2 1/2 C flour (Nan's recipe calls for 3 C, but our soy nut butter is much more dry than peanut butter)
1 tsp salt
2 tsp baking soda
Cream shortening, soy nut butter, and sugars well. Add eggs and vanilla, and beat. Combine dry ingredients and mix well with wet mixture until incorporated to a thick dough. Form into balls and place on cookie sheet. Press lightly with a fork. Bake at 375` for about 15 minutes.
I tried to mix chocolate chips into some of the dough, but it was too dry for them to really stick.I wouldn't recommend an add-in with this recipe. Keep it simple!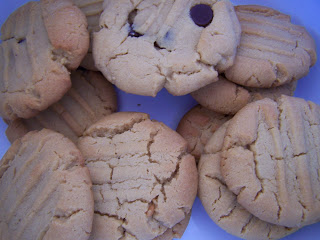 Isaac's favourite part was pressing the fork into the dough, or "making the stripes" as he calls it. And was is that great thing he is standing on? A learning tower! An awesome & handy friend built us this DIY version of
the original,
and we absolutely love it. Thanks Julien!