I saved
this
recipe from
Lisa's blog
a while back, but finally made them this weekend as a snack for all the parents at our family movie night. They were fast and easy to prepare and assemble, and they were delicious. (You can never go wrong with butter and brown sugar!)
6 macintosh apples, peeled and diced
5 T butter
5 T brown sugar
2 t cinnamon
1 double pie crust (your fave recipe or the refridgerated kind)
Melt butter in a small pot over medium heat. Stir in sugar, apples, and cinnamon. Cook, stirring occasionally until apples are tender (about 7-10minutes for macs, but less for a firmer apple).
Cut dough into circles. (Just use a knife, because they don't have to be perfect and you want them bigger than a biscuit cutter. Unless of course you have a really big biscuit cutter...in which case, just ignore me)
With your finger tips, make slight indentations in the centre of the dough circles where you will place the filling. Spoon apple filling onto each circle, folding up the edges and pinching the dough as you go. Bake at 350` for about 25 minutes until the edges are golden.
I originally thought that the filling would be too dry. As the apples cooked down, however, they gave tons of juice that helped form the saucy caramel.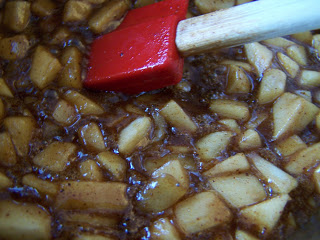 Once I started to make imprints on the centre of the dough for the filling, the circles of pie crust seemed to want to curl up. Ideal for this recipe!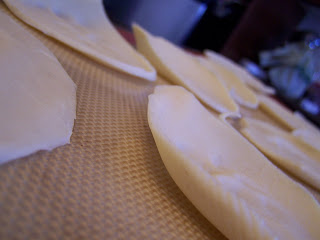 Lovely little pies you can hold in your hand.
(I'd call them more of a rustic tart, but who am I to judge?)