With oodles of beets from our produce pack program, I was excited to find
this
recipe for the kids. And they loved them! I noticed a slight smell of beets when I cut into mine, but they taste the same if you close your eyes. I sprinkled chocolate chips and blueberries on a couple to make them extra-appealing to my toddlers.
First, clean your beets and trim to allow an extra 1/2 inch on each end. (ie: 1/2 inch of stem and 1/2 inch of skinny root on each beet). Place in a covered casserole dish, and bake at 425' for 1 to 1 1/2 hours, depending on the size of your beets. Allow to cool in the covered dish, before simply rubbing to remove the skin with your fingers. Then, puree beets in a food processor until smooth - adding a little water if necessary.
You can easily incorporate the pureed beets into your own pancake recipe in lieu of oil or apple sauce.
Bright pink pancakes in the skillet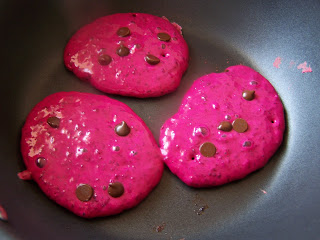 .
Finished pancakes (with chocolate chips) cooling on wire rack.