Mmmm....such a nice taste of fall!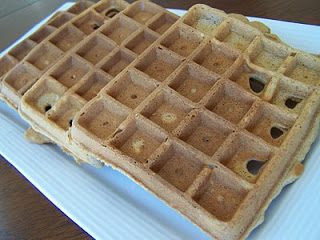 I found this recipe in an old compilation fundraising book. I love to go through those on occasion and see what I might have missed in the past. I thought they were delicious, and they were a hit with three toddlers at lunch time. (Photos of my happy customers appear below too!)
1 1/2 C flour
1 1/2 tsp baking powder
1/2 tsp baking soda
1 tsp ginger
1 tsp cinnamon
1/4 tsp nutmeg
1 C buttermilk
2 eggs, lightly beaten
1/4 C melted butter
1 Tbsp molasses (Crosby's, of course, since it's made here!)
1/4 C firmly packed brown sugar
Combine dry ingredients in a mixing bowl. Stir in the remaining ingredients until smooth. Cook waffles according to the directions with your waffle iron. Mine took slightly less time than my regular waffles often too - plus the dark colour of the batter made them appear quite dark before they were well-done.
Yummy!