My sweet cousin Sadie has been competing in a local talent competition, and has made it through to the finals! (Want to see why?
Check her out on YouTube
!) I wanted to bring her a little treat to congratulate her on doing so well with the weekly competition throughout the summer, so I made her some superstar sugar cookies. (
This
is another recipe that I originally got from Katie at
Good Things Catered
, but her site is no longer active.)
1 1/2 C butter
1 1/2 C
sugar
1/2 C icing
sugar
4 eggs
1 tsp vanilla
1 Tbsp lemon zest
5 C flour
2 tsp baking powder
1 tsp salt
Cream butter and sugars for 5 minutes in mixer. Add eggs one at a time, mixing well after each addition. Mix in vanilla and lemon zest. Sift flour, baking powder, and salt together.gradually mix dry ingredients into wet mixture. Roll out (using icing sugar to avoid sticking to rolling pin (or, in my kitchen, wine bottle), and cut as desired. On a Silpat or parchment-lined baking sheet, and bake
cookies
for about 8 minutes @ 400`. Frost cookies as desired only once completely cooled.
I used
this icing recipe
for the first time. In lieu of flooding or painting the icing, I dipped the cookies in it. It was quick and simple, but obviously didn't have the crisp result of flooded cookies.
Here is one of Sadie's Superstar Cookies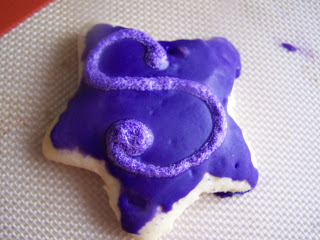 And here are some hearts I made to keep at home for my little loves (with the icing thickened and piped on)