I
posted
a while back that I was going to do my first product review. Well, without further ado...
This is my gorgeous new
Rachel Ray Bubble and Brown Stoneware
. It's a set of two (1.25 quarts and 2.25 quarts) pieces of stoneware, each with built-in handles and low curving sides. They are dishwasher, microwave, freezer, and oven safe, and they nest for compact storage.
So far, I love these little guys!
With the 2.25 quart dish, I made
The Farm Chick's
Rhubarb Crunch
. My toddlers helped me pick oodles of rhubarb yesterday, some for this dish and lots for the freezer. What are your favourite rhubarb recipes?
4 cups rhubarb, chopped
1 1/4 cups flour
1 cup oats
1 tsp cinnamon
1 1/4 cups packed brown sugar
1/2 cup melted butter
Sauce:
1 cup sugar
2 tblsp cornstarch
1 cup cold water
1 tsp vanilla
Mix together the flour, oats, cinnamon, brown sugar and melted butter. Press half of the mixture into your greased baking dish. Top with chopped rhubarb. Whisk sauce ingredients together in a glass bowl. Microwave for 3-5 minutes or until thick, clear, and bubbly. Pour sauce over rhubarb, and top with the remaining flour mixture. Bake at 350' for approximately 35 minutes, or until bubbly and golden.
It's supposed to be for dessert tonight, but I already snuck a taste. Okay, more like 11 tastes. It's delicious! And how cute does it look in the new stoneware?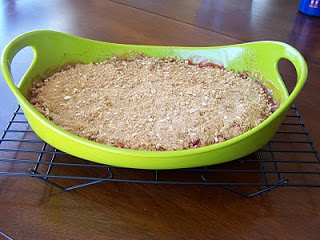 Mmmmm...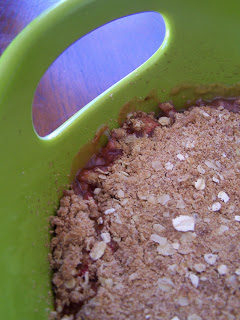 And what did I make in the 1.25 quart dish, you ask? Martha Stewart's Macaroni and Cheese! This recipe made enough for the 1.25 quart dish, plus 12 "mac muffins"made in muffin tins for the kiddies. (Thanks for the idea, Weelicious!)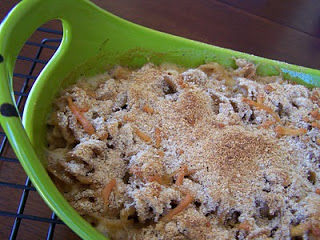 *Product was provided for review purposes*