After my rhubarb crumble barely made a dent in the rhubarb I picked last week, I've been searching for other recipes to try with it. (My friend Laura found these bars, which look delicious and so much
more delicate than you would expect rhubarb to be.)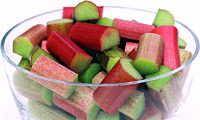 I am just coming to realize that I've never blogged my

favourite

rhubarb recipe ever, although I made reference to it here. This is a delicious recipe that
I've tweaked gradually over time, and I don't think that I've ever made it without someone asking for the recipe.
I got a message from my friend Blythe, who has a big rhubarb plant and wanted to try the crumble. I also got a message from Jenn, who wanted to try baking with rhubarb for the first time. I told them both that the crumble was good, but they should really try this coffee cake.
If you are going to try one new rhubarb recipe this spring, make it this one!
1 ½ Cups Packed Brown Sugar
2/3 Cups Vegetable Oil
1 Egg
1 tsp Vanilla
2 ½ Cups Flour
1 tsp Salt
1 tsp Baking Soda
1 Cup Milk
1 ½ Cups Rhubarb, chopped
1/3 Cup White Sugar
1 Tblsp Butter, Melted
¼ Cup Walnut Pieces
Preheat oven to 350 degrees F (175 degrees C). Grease two 9 inch round pans.
In a large bowl, beat brown sugar, oil, egg, and vanilla together until smooth. Combine flour, salt and baking soda; add to sugar mixture alternately with milk. Beat until smooth. Stir in rhubarb. Pour into prepared pans.
In a small bowl, combine white sugar and butter or margarine. Stir in 1/4 cup walnuts. Sprinkle topping over batter.

Bake for 30 to 35 minutes, or until the cake tests done.