I updated my
Facebook
status yesterday, saying that I was excited about the samosas I made. I got loads of comments asking for the recipe, so here you go!
The original recipe is from
this cookbook
from the
Royal Nova

Scotia

International Tattoo
. (Page 3, for all my family that has the book) I always find it so much fun to go through a compilation cookbook like this, because there is always such a wide-range of recipes included. This one (or my interpretation) is definitely my favourite so far!
Dough:
2 C flour
1/8 tsp salt
1 C plain yogurt
Filling:
1 C potatoes, cubed
1 C sweet potato, cubed
1 onion, chopped
1 Tbsp oil
1 clove garlic, minced
1/4 tsp fresh ginger, minced
1 1/2 tsp cumin
2 tsp curry powder
1/8 tsp cayenne
1/4 tsp salt
1 C frozen peas
Mix flour and salt in a bowl. Add yogurt, and stir well. Begin
kneading
, adding more flour as needed, and form a ball. Wrap tightly and refrigerate.
Boil potatoes until almost fork-tender. Drain. In a pot over medium heat, combine oil, onion, garlic, ginger, cumin, curry, and salt. Cook until the onion starts to soften, then add the peas and cook until heated. Remove from heat and stir in potatoes.
On a floured surface, divide dough into 12 equal pieces. Roll each piece into a circle, and place 2 Tbsp of filling on each one. Dampen inside edge of dough circle with a wet finger, and fold into a half-moon. Crimp edges with a fork to seal. Place on a greased baking pan, and brush tops sparingly with oil (approximately 1 tsp of oil between all 12 samosas). Bake at 425` for 15 minutes. Flip samosas and reduce temperature to 350` for an additional 15 minutes.
I made my samosas several hours before I planned to serve them. To compensate for reheating, I only cooked them at 350` for 10 minutes before cooling on wire racks. To reheat, I placed the wire rack on a baking sheet, and placed in a 350` oven for an additional 10 minutes just before serving.
Here is the lovely filling. It smelled amazing! I had to chase my husband (fork in hand) away from the pot more than once.
Here they are, before they hit the oven. The little bundles totally reminded me of
making

eggrolls
.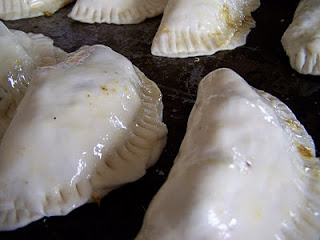 And here are the samosa, before the last 10 minutes, so they browned a little more before serving.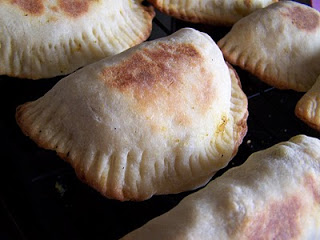 I will definitely be trying this recipe again soon, and try some different combination for the filling. Lots of possibilities! Enjoy - and let me know how you make out.
*Edited to add that I just did some math, and these delicious little guys are only 2 weight watcher's points each!*